DEERFIELD, Ill. - Kobe Bryant won't be joining the Chicago Bulls anytime soon. General manager John Paxson basically squashed the notion that the Los Angeles Lakers' superstar will wind up in Chicago, saying the teams were never on the verge of a deal and talks were over for now.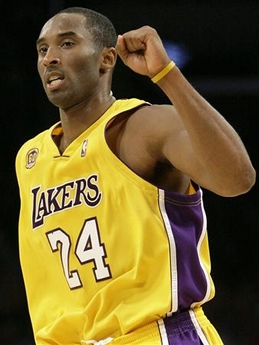 Los Angeles Lakers Kobe Bryant celebrates after teammate Derek Fisher made a three-pointer against the Houston Rockets during the first half of their NBA basketball game in Los Angeles, California October 30, 2007. [Agencies] 
"There's not a deal done," he said Thursday. "There's not going to be a deal done. All the things that were out there were really unfair to all of us who were trying to do our jobs. The misinformation ... I think gets in the way of the process. It's just such a complicated thing and we kind of put it to rest now."
Paxson said they discussed "parameters," but the sides "never got down to the nuts and bolts of it because there was never a deal to be done."
"That's the reality of it," he said. "People can make what they want of it, but what I know is that part of it is over with."
Paxson's comments came a day after a flurry of rumors. Speculation picked up Wednesday, with one report saying the Bulls, Sacramento Kings and Lakers were discussing a three-way deal that would bring the superstar to Chicago.
That scenario had Paxson sending Ben Gordon and a signed-and-traded P.J. Brown to Sacramento, with Chicago's Ben Wallace and the Kings' Ron Artest heading to Los Angeles. Paxson dismissed the rumor, saying a deal involving Brown would send the Bulls over the luxury tax threshold - something they're reluctant to do.
Bryant, speaking before news of Paxson's comments reached the Lakers' El Segundo, Calif., practice facility, said he is monitoring the rumors "just to keep tabs on how my teammates are reacting to it."
"We've been doing a pretty good job of staying focused," he said. "I've talked to them. From that standpoint, I don't think it's that difficult. If you didn't speak to them or kind of fill them in, it would get a little confusing."
Bryant drew some boos during introductions before the Lakers' season-opening 95-93 loss to Houston on Tuesday, after calling the front office a mess and asking to be traded during the offseason. The jeers turned to cheers as Bryant scored 18 of his 45 points in the fourth quarter to lead a comeback.
The trade deadline isn't until February, so it's possible talks between the Lakers and Bulls could resume.
"Who knows?" Paxson said. "The reality is that right now, it's done."
Paxson was concerned the issue would become a distraction, so he decided to put it to rest.
"I think today sends a message that our guys don't have to worry about anything right now," Paxson said.
Then again, coach Scott Skiles wondered: "What's resolving anything in all sports until the trading deadline?"
"Just because this rumor at some point dies down, does that mean another one's not going to crop up in two weeks?" he asked. "It's ongoing, it's all the time. Now, this is one that involves a very, very high profile player, so I understand the extra attention on it."
With the rumors swirling, Chicago played a flat first half and was just as bad at the end in losing the season opener 112-103 at New Jersey on Wednesday. Just about every Bull's name has surfaced in rumors, and Luol Deng acknowledged the Kobe questions are wearing on him.
"I am," he said when asked if he's annoyed by them. "But you guys want to get to the bottom of it so I've just got to keep answering your questions."
Several issues stand in the way of a Bryant deal.
Bryant has a no-trade clause and can opt out in the summer 2009, although he has said he wouldn't mind playing in Chicago. Paxson does not want to gut his roster or part with Deng, who appeared to be on the verge of stardom last season.
Would Bryant want to go to a Bulls team without Deng?
And if there's no deal with Chicago, where does that leave the Lakers?
"Maybe having our cake and eating it, too," said coach Phil Jackson, speaking after word of Paxson's comments had reached the Lakers' facility. "Dr. (Jerry) Buss reiterated many, many times that we do not want to trade Kobe Bryant but we'll listen to any comments that come our way that would give us equal parity for him."
Paxson and Bulls chairman Jerry Reinsdorf met with Bryant when he was a free agent in 2004. He wound up re-signing with the Lakers for seven years and $136.4 million, with that opt-out clause.
"He liked what he heard," Paxson said. "For that reason, he likes the Chicago Bulls, which is obviously flattering."
But he apparently won't be joining them in the near future.