ORLANDO, Fla. - Rashard Lewis scored 26 points and Hedo Turkoglu had 24 to lift the sharp-shooting Orlando Magic to a 102-83 victory over the Milwaukee Bucks in the teams' season opener Wednesday night.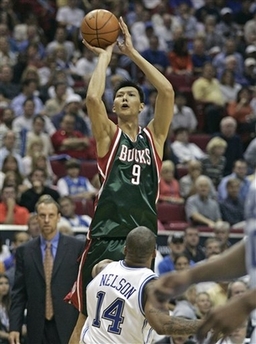 Milwaukee Bucks forward Yi Jianlian (9), of China, towers over Orlando Magic guard Jameer Nelson with a 3-point attempt during the first half of an NBA basketball game in Orlando, Fla. on Wednesday, Oct. 31, 2007. [Agencies] 
Behind Turkoglu and Lewis, making his Eastern Conference debut, the Magic buried Milwaukee from behind the arc. Orlando was 12-of-22 from there, compared with 4-of-17 for the Bucks. Lewis was 4-of-5 on 3s and Turkoglu 3-for-5.
The Magic shot better from 3-point range (54 percent) than the field (44 percent).
Michael Redd scored 25 points for Milwaukee and Bobby Simmons added 16. Yi Jianlian had nine points and three rebounds in 25 minutes in his debut, sitting for several stretches in foul trouble. Andrew Bogut finished with 11 rebounds.
Yi's first NBA statistic was a turnover, but he responded the next play by blocking a layup by Turkoglu. The 7-footer scored his first NBA basket about 30 seconds later on a 22-foot jumper.
Dwight Howard had 16 points and 12 rebounds. Perhaps most importantly for Orlando, he hit eight of 10 free throws.
Trailing 56-55 a few minutes into the third quarter, the Magic took off on a 28-8 run keyed by Turkoglu and Lewis. Lewis hit three 3-pointers, Turkoglu had two and Keith Bogans and Keyon Dooling each chipped in one.
Turkoglu sparked the run with a sharp play to draw Yi's fourth foul. The seven-year veteran caught the rookie in the air, passing up an open jumper to lean in for contact and two free throws.
Simmons scored nine of Milwaukee's first 10 points in the second quarter, and the Bucks built a 41-34 lead midway through the period. Turkoglu and Howard led Orlando back with an 8-0 run over the next two minutes, and Lewis scored four in the quarter's final 2:33 to give the Magic a 48-46 halftime lead.