If you believe the chatter coming out of China following Yao Ming's stellar performance in the Houston Rockets' regular-season opener, you might think Yao already has the MVP award locked up.
Yao's 25 points and 12 rebounds certainly laid a foundation for the Rockets to escape with a narrow win at Staple Center in Los Angeles. "Those are MVP stats," one exuberant fan wrote on a bulletin board at Sina.com.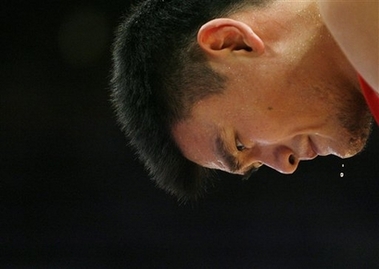 Sweat drips from the chin of Houston Rockets' Yao Ming during the second half of a basketball game against the Los Angeles Lakers in Los Angeles on Tuesday, Oct. 30, 2007. Rockets won 95-93. [Agencies] 
MVP-caliber? Maybe. More encouraging might be the grueling 40 minutes of work Yao put in at both ends of the floor, swatting three Laker shots and adding a steal to go along with his offensive outpouring. Those 40 minutes - well outside his 33-minute average last season - are especially noteworthy and suggest Yao is indeed ready to bear an MVP-type workload after missing almost half of last season with injuries.
Enthusiasm was abundant at Sina.com, where an online poll had 47 percent of respondents calling Yao's game the best season-opener of his career. Many Chinese fans went so far as to call it "a perfect game", probably choosing to ignore Yao's four turnovers.
Many fans were also thrilled to watch a more dynamic Rockets' offense, a new reality under first-year coach Rick Adelman.
"I love the way they play, with a lot of quick transitions and fast breaks. And I love to see Adelman standing along the court rather than stupid Jeff Van Gundy," wrote one fan, clearly weary of the grind-it-out coaching style of Adelman's predecessor.
But Yao had a different explanation for his strong showing: a new haircut. "I had my hair cut before flying to LA," he said. "I want to feel fresh for the new season."
Freshly shorn and in great shape, Yao looks ready give Chinese fans a thrilling season, and they're eager to follow. With 81 games to go, MVP talk may be a bit premature. But if the Rockets want to reach their ambitions and become more than the third-best team in Texas, Yao will need to deliver these kinds of numbers on a nightly basis.