LOS ANGELES - The Houston Rockets overcame a 45-point effort from Kobe Bryant to beat the Los Angeles Lakers 95-93 in their NBA season opener on Tuesday.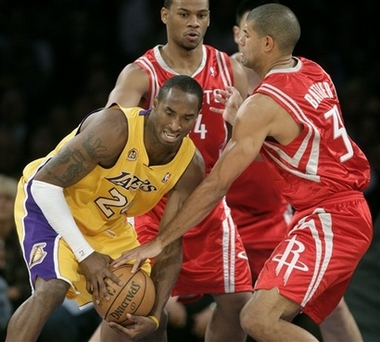 Los Angeles Lakers' Kobe Bryant, left, and Houston Rockets' Shane Battier battle for the ball during the first half of a basketball game in Los Angeles on Tuesday, Oct. 30, 2007. [Agencies] 
Rockets guard Tracy McGrady contributed 30 points and towering center Yao Ming 25 to help the visitors dominate the second and third quarters, before holding off a thrilling Lakers fightback at the Staples Center.
All-Star guard Bryant, who missed the Lakers' final exhibition contest on Friday with a sprained right wrist, scored 13 points in a scrappy first quarter to put his team 25-16 ahead.
Houston, gradually settling into a smooth rhythm, took control in the second period to level at 43-43 on half-time before tightening their grip in the third quarter.
McGrady poured in 14 points and Yao six to give the visitors a 70-62 advantage going into the final period.
However, the hard-driving Bryant inspired a gutsy Lakers fightback before setting up a two-pointer from guard Derek Fisher that levelled the score at 92-92 with 13.9 seconds left on the clock.
The Rockets conjured a last desperate surge and forward Shane Bettier's pinpoint three-pointer gave Houston a 95-93 advantage with 2.5 seconds remaining.