"I guess you guys are gonna ask me how will we deal with Yi Jianlian's absence in new season," Guangdong Tigers head coach Li Chunjiang said when a group of reporters approached him during the team's training session.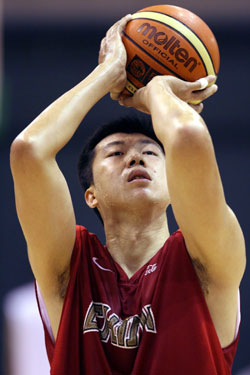 I feel great. It was one the best summer I have ever had as an individual preparing for a new season. Physically, I'm fine and I'm ready to play another full season – Wang Zhizhi 
"I have no idea about how we'll play without Yi. His departure is a huge blow for us. I am afraid we won't play at the level we had over the past years."
With Guangdong losing firepower and with the addition of new blood, the Bayi Rockets are set to dominate the CBA yet again. To many observers, Bayi's eighth league title is all but in pocket for the 2007-08 season.
Led by former NBA player Wang Zhizhi, the army-run Bayi ruined Yi's CBA farewell by beating Guangdong four games to one in the Finals last year.
Wang claimed the league's Most Valuable Player (MVP) award by averaging a scintillating 26.8 points and 10.2 rebounds in the playoffs against his Guangdong rivals, who had won three consecutive CBA titles with Yi, while Wang spent his time warming NBA benches.
Wang was no less emphatic about his title quest this year.
"We have worked really hard and we will try to win every match in the new season," said Wang, who came back to Bayi last year after playing for the Dallas Mavericks, Miami Heat and Los Angeles Clippers between 2001 and 2005.
The good news for Guangdong is that the 31-year-old didn't have an off-season this summer, playing a total of 33 international games in the national team's six-month training camp.
But 2.12m center likes it that way.
"I feel great. It was one of the best summers I've ever had as an individual preparing for a new season," Wang said. "Physically, I'm fine and I'm ready to play another full season."
Adding to Bayi's already formidable roster, the team also signed rising star Wang Lei, another national team player who played for Shanxi Zhongyu last season.
The 21-year-old small forward averaged 18.6 points and four rebounds in his rookie season and has grown into a national team mainstay with his consistent play over the summer.
"He is the most dynamic forward in China," said Bayi coach Adijiang. "He has great potential and I believe his joining will make the team stronger than ever."
For Guangdong, it is a different story.
Yi left for the Milwaukee Bucks and coach Li has seen many important players added to the list. Unfortunately, it is the injury list.
Key players, such as Zhu Fangyu, Chen Jianghua and Du Feng, were all injured playing for the national team this summer.
"It will be a season full of troubles," said Li. "I hope they will get back on the court as soon as possible. We will play team basketball because without Yi, none of them is able to lead us to victory all by himself."
Without a decent big man to play inside, fans would like to see Guangdong play like the New Jersey Nets or the Sacramento Kings. But Li said that would not be the case.
"I have to say we don't have Ray Allen or Mike Bibby, so we cannot copy their way of play" he said. "But I expect a lot from Zhu and Du, if they are able to find their range right into the season, we will have some good chances."
Apart from the traditional powerhouses, Xinjiang Guanghui will also garner a lot of attention this season.
The ninth-place team last year brought in former NBA center Menk Bateer and veteran coach Jiang Xingquan, and the team will look to improve on its 50 percent winning percentage after spending big money in the summer.
Bateer, 32, who returns to the CBA after playing for the Denver Nuggets, Toronto Raptors and San Antonio Spurs between 2001 and 2004, signed a one-year contract with Xinjiang reportedly worth 4.2 million yuan ($556,000).
"This is a great return for me, I am excited about my new start here in the CBA," said Bateer.
Down in the south, returning four-time CBA MVP Liu Yudong will make a difference for Fujian Xunxing. The veteran joined Fujian after a two-year retirement.
Averaging 28.5 points in his career, Liu led Bayi to six CBA champions and two National Games gold medals. Also, his rich experience of international and home competitions has what it takes to lift Fujian to new heights -or at least, better than its sixth-place finish last season.