Chinese long-distance runner Sun Yingjie will reportedly make her comeback debut after a two-year doping ban in January's Xiamen International Marathon, which is also the final 2008 Beijing Olympic Games qualifier. But the boss of the sport's governing body tried to cool people's expectations for Sun's appearance in Beijing.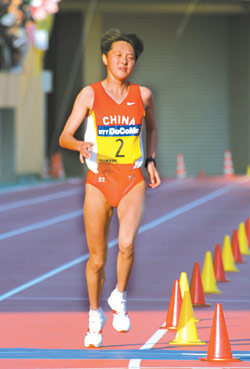 Sun Yingjie 
"I also heard that she will compete in the Xiamen marathon," said Feng Shuyong, vice director of China's Athletics Administrative Center (CAAC). "'Heard' means what media said. I never said Sun will come back to compete in Xiamen. She is not a member of the national team and is not managed by the center right now."
Reports said Sun, the 10,000m bronze medalist at the 2003 world championships, is back in training and aiming to compete at next year's Olympics after completing a two-year ban last Friday for testing positive at China's National Games in 2005.
"I have no idea how she is doing right now. But if she wants to compete in Xiamen, we will not prevent her," Feng added.
The 28-year-old Sun from Liaoning is best known for her marathon exploits. But after missing last weekend's Beijing Marathon, a race she won three times from 2003 to 2005(also one of the Olympic qualifiers), and her only hope to win an Olympic ticket is in Xiamen.
Even if Sun fails to reach the Olympic standard, she still has the chance to qualify in the 10,000m and 5,000m in following competitions.
But there is concern about whether she is still in top form after a long non-competition period.
"If Sun fails in marathon, she still has chances in 5,000m and 10,000m. She has to reach the Olympic standard in next year's national tournaments," said Hu Xinmin, director of National Team Management Department of the CAAC.
"Whether you are a star or a rookie, only the result matters. Sun is not in her form right now and who knows what will happen."