China's women soccer coach Marika Domanski-Lyfors finally made her decision to leave after keeping the team, administration and fans on tender hooks for a month.
China Football Association (CFA) made the announcement on Wednesday after an overnight negotiation with the Swede that ended in vain.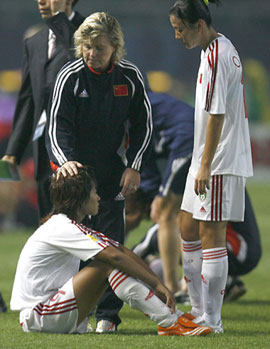 China's coach Marika Domanski-Lyfors of Sweden (C) comforts her player Han Duan after their loss to Norway at the quarterfinal match of the 2007 FIFA Women's World Cup soccer tournament in Wuhan, China Sunday Sept. 23, 2007. Norway defeated China 1-0. [Xinhua] 
The negotiation was a last-ditch effort to keep Domanski-Lyfors with less than a year before the Beijing Olympics. The women's team, nicknamed "Steel Roses" by fans, was expected to regain their 1990s glory, after they stormed to silver finishes in 1999 World Cup and 1996 Atlantic Olympic Games.
Domanski-Lyfors skirted around giving a definitive answer to her contract extension after China was eliminated Norway 0-1 in the quarter-finals at last month's FIFA Women's World Cup. She took the helm of the team late in March this year with her contract stipulating that she could be fired if the team didn't make the quarter-finals of the World Cup.
Last week, she hinted she might abandon the team, saying she longed to spend more time with her family. She added she and her assistant couldn't get used to eating Chinese food.
The Swede explained she postponed making the final the decision time twice during the past two weeks because she needed to wait for the results of her assistant's physical check-up to decide whether they would remain in China.
Reports said Domanski-Lyfors told team manager Li Feiyu that if they wanted to extend her contract, they should hire a Chinese assistant who can speak fluent English. She made this demand during their telephone negotiations on Monday night. The Swede also wanted more time off for her to see her family.
Meng Hongtao, CFA spokesman, said they tried their best to keep the team's first foreign coach because the team can't afford to deal with frequent changes in leadership any more with the Olympics around the corner. The team has had five coaches in the past two years.
"We are planning to appoint a new coach to ensure a normal training schedule for the Olympics," Meng said, without giving further details of the appointment.
Three potential candidates emerged when Domanski-Lyfors was hesitating about continuing her contract in China. Reports said Brazil's women's coach Jorge Barcelos, France's former coach Loisel Elisabeth and former US coach April Heinrichs were hot picks. France's Elisabeth was also a candidate when Domanski-Lyfors was awarded the contract in March.