BEIJING - Chinese hurdles star Liu Xiang was so ill he spent several days on an intravenous drip before winning the world title in August, his coach revealed.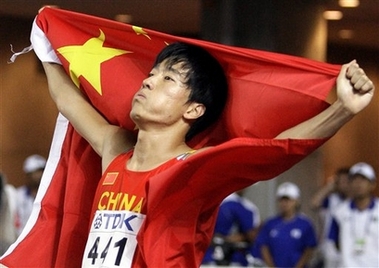 China's Liu Xiang celebrates with a Chinese flag after winning the gold medal in the Men's 110m Hurdles during the World Athletics Championships in this Aug. 31, 2007 file photo in Osaka, Japan. The hurdler's coach said Monday Liu was on a drip just days before the Championships run. [Agencies] 
'His condition was very bad,' coach Sun Haiping said of the Olympic champion and world record holder before the 110 metres final in Osaka, Japan, on August 31.
'For three days before the race he was on a drip because his health was very poor.'
Liu, 24, came from behind to win a scrappy race in 12.95 seconds, knocking over the penultimate hurdle and glancing across at American Terrence Trammell at the line.
The time was modest compared to Liu's world record of 12.88sec set last year and outside his best times clocked earlier in the year.
But coach Sun revealed that the Shanghai-born Liu, who reportedly had a fever, was lucky to run at all and that he nearly suffered a 'physical collapse' afterwards.
Liu was still unwell a month later when he finished third in his next race, a grand prix event in Shanghai on September 29, Sun said.
'After the world championships he almost had a physical collapse,' he said late Monday.
'He didn't have time to recover his health for the Shanghai race so he could not catch up and that's how we lost.'
Liu, the first Asian male Olympic and world track champion, is China's chief hope of an athletics title at next year's Beijing Games.
Sun said Liu was now training freely and had recovered his health. The only thing he feared before August 8-24 Olympic Games was injury or ill health, Sun said.