New York - The US National Basketball Association is launching a new subsidiary in China, in a sign of the sport's increasing popularity among Chinese people, the league announced Wednesday.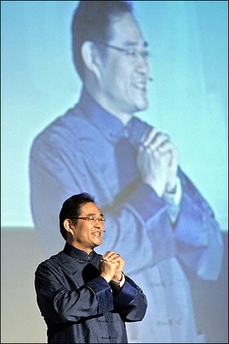 Microsoft's top man in China, Tim Chen, seen here in January 2007, will leave the software giant to head the newly-formed NBA China. [AFP]
The New York Times reported Wednesday that the NBA will own 90 percent of NBA China with five percent going to Chinese investors and five percent going to a US media company that sources told the Times was The Walt Disney Company.

Microsoft's top man in China, Tim Chen, will leave the software giant effective October 15 to head the newly-formed NBA China.
Chen, who was president of Motorola China from 2001 to 2003, will be the point man for navigating governmental issues and boosting explosive NBA growth potential in the world's most populated nation.
"Tim is the ideal person to lead NBA China as we expand our infrastructure and operations to meet the growing interest from fans and consumers throughout the region."NBA commissioner David Stern said.

"The NBA is a truly exceptional brand with a huge fan base that reaches across all parts of China," Chen said in a statement.
"I'm thrilled by the scope of this opportunity and the ability to work with such a talented team as we build on the enormous business potential that spans media, merchandising, marketing, events and new initiatives."

Basketball is big business in China. One in five visits to NBA.com comes from China, where 300 million people play basketball and 83 percent of those between the ages of 15 and 24 are NBA followers. Growing consumer demand has sparked the creation of the new operation.

The NBA's first Chinese venture came in 1979 when the Washington Bullets played an exhibition there against China's national team.
NBA programming relationships with 51 television stations in China bring league games to more than 1.2 billion viewers and the NBA also has partnership deals in 20 with 20 leading global brands.
NBA products are available in more than 50,000 locations across China, from the hustle and bustle of a Beijing preparing for next year's Olympics to the vendors in tiny islands near Hong Kong.
More than 170 NBA events will be staged in China, most notably three pre-season exhibition games in Shanghai and Macao next month..
NBA China will be governed by a board of directors that will include Stern, NBA owners, representatives of outside investors, NBA deputy commissioner Adam Silver and Heidi Ueberroth, the NBA president of global marketing partnerships and international business operations.