OSAKA, Japan - Tyson Gay became just the second man to win the sprint treble at a single world championships when he led the United States to victory in the men's 4x100 metres relay final on Saturday.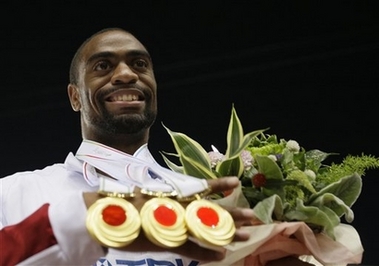 Tyson Gay of the United States displays his three gold medals during medal ceremony for the Men's 4x100m Relay at the World Athletics Championships Sunday, Sept. 2, 2007, in Osaka, Japan. Tyson won gold in the Men's 100m, the Men's 200m and the Men's 4x100m Relay. [AP] 
"Yes, I want to do all three," Gay said on Sunday, a day after winning his third gold medal at the world championships.
Gay swept past his rivals to claim the 100 and 200 metres world titles, and ran a tense third leg for the victorious US 4x100 metres relay team.
"Never in a million years did I think I would win three gold medals," a tired Gay said. "At USAs (where he won the 100 and 200) you were trying to make the team. Here you were trying to make history."
Only compatriot Maurice Greene in 1999 has accomplished the sprint triple.
"Mentally and physically, my body is drained," Gay said, adding that a well-deserved vacation was next on his agenda.
"I think I will go to Europe, possibly Amsterdam where I normally train, get my body taken care of and decide from that point to fly to where I am going to run," Gay said.
Gay said the entire world championship experience was amazing, especially for a man who had never won a global medal.
"I could easily have gotten third in the 200, or maybe no medal, and it would not have taken away from my victory in the 100," the 24-year-old said.
"But I stepped up and redeemed myself from my past," said Gay, who was fourth in the 200 metres in Helsinki in 2005.
Shaky moments surrounded both of his exchanges in the relay. Gay's hand almost touched Wallace Spearmon Jr.'s face before their exchange and anchor Leroy Dixon stumbled slightly after being nudged ahead by Gay as he took off on the final leg.
"I just could not get out," Gay said, recalling how tired his body was as he tried to take the baton from Spearmon.
"I didn't have that first 10 steps to get away. But once I got the stick in my hand, I tried to turn into a different person.
"The coaches told me to please give him (Dixon) the biggest lead possible, because we know (100 metres world record holder and Jamaican anchor) Asafa Powell is coming. That's what I tried to do."