OSAKA - Olympic champion Liu Xiang said here on Thursday that his goal is to get a medal at the world championships in Osaka.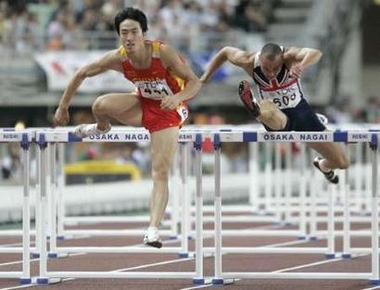 China's Liu Xiang (L) clears a hurdle ahead of Britain's Andrew Turner (R) during their men's 110 metres hurdles semi-final at the 11th IAAF World Athletics Championships in Osaka August 30, 2007. [AP] 
The 24-year-old Chinese star, also holder of the men's 110m hurdles world record of 12.88 seconds, reached the final by clocking 13.25 seconds to finish second in heat 3. Cuba's rising star Dayron Robles won the heat in 13.21.
Liu was the fifth overall in the three heat while American David Payne was the fastest by winning heat 1 in 13.19.
"The race was easier than yesterday. But it is tomorrow's race that matters," Liu said.
But Liu, who has not won the world title in three attempts, played down his winning chance although American hurdler Dominique Arnold had pulled out of the championships and defending champion Ladji Doucoure of France was eliminated.
"I'm aware of that," he said. "But I don't want to think about my opponents and just run my own race. Now, I'll be running the final to get a medal."
Doucoure crashed out after finishing third in his heat with 13.36, behind American Terrence Trammell in 13.23 and Ukraine's Serhiy Demydyuk in 13.35.
Liu's teammate Shi Dongpeng also qualified for the last eight by finishing second in his heat in 13.24. It will be Shi's second time to run in a championships final after settling sixth in 2003 Paris.
"I am a little bit tired from the heats," Shi said. "Now, I do not want to think too much about the final. I only want to have a good rest."
Shi, the second best hurdler in China for years, added, "Since the championships two years ago and since the Olympics three years ago, I have improved a lot. I achieved solid times around 13,20. I am an 'old' hurdler now (laughs)."