China's Olympic soccer team is still well shy of the performances it will need in order to fulfill the Chinese Football Association's (CFA) goal of qualifying for the 2008 Beijing Games semifinals.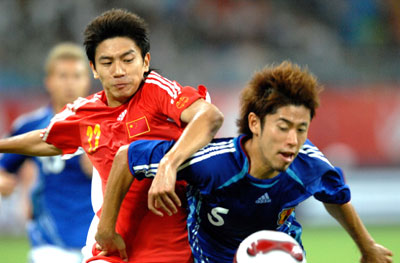 Zhu Ting (left) of the China National Olympic Team fights for the ball with a Japanese player during the four-nation Olympic team tournament in Shenyang last Friday. The two sides played to a goalless draw. [Xinhua]
The latest blow to CFA's confidence came via lackluster warm-up matches against Japan and DPR Korea in Shenyang, Liaoning Province, last week.
Despite home-soil advantage, a Chinese referee who many believed favored the hosts and its best possible under-22 line-up, China suffered an ignominious 0-1 loss to DPR Korea and scraped a dissapointing nil-all draw against Japan.
China considers archrival Japan, the bronze medalist at the 1968 Mexico Olympics, the benchmark it must exceed before qualifying for an Olympic semifinal.
But far superior development at grassroots level across the East China Sea makes this feat a very tall order.
"We have many real chances to score but missed them," head coach Ratomir Dujkovic said of the fruitless match against Japan.
"It is a pity - I was disappointed with the result."
Dujkovic seemed to succumb to pressure from CFA by sticking to the same line-up in a vain bid to win his first tournament since inheriting the post last year, even as his Japanese counterpart tinkered with his starting team.
The Serbian coach even kept some players on the bench for the entire tournament.
Gap not so wide
Dujkovic insisted the gap between China and Japan was not as wide as some think.
"History is left for us to change," he said.
"We will win them in the future. I think we are very close to Japan. Today's match was neck and neck.
"I should say, 'watch out and we are on your back'."
Japanese coach Yasuharu Sorimachiy said his heavily depleted side had used the warm-up tournament to give newcomers experience in the international arena.
"Some of our best players did not come this time," he said after both sides had finished the game joyless.
"We are not coming to win this tournament and just want to give other players more experiences. Our ultimate target is the Beijing Olympic Games."
Sorimachiy faced added pressure after Japan's senior national team finished fourth in a disappointing Asian Cup campaign.
But with most of his regular starters unavailable because of a domestic all-star match, the coach had just three Under-20 internationals - midfielder Tsukasa Umesaki, defender Michihiro Yasuda and forward Yasuhito Morishima - to rely on as go-to players.
During the match, the well-organized Japanese outfit used pinpoint passing and superior teamwork to frequently beat China's defense, which often resorted to dangerous tackles to stop their opponents.
Ironically, the Chinese referee awarded the home team 21 free kicks to Japan's eight.
"It is disgusting," famous critic Ruan Xiongfei from Titan Sports wrote on his blog.
"We should win by skills rather than by biased whistles.
"Such kind of official refereeing will not do anything good to the sport's development."
When asked about the referee's performance, Sorimachiy did his best to bite his tongue.
"I cannot say much," he said.
"Just write as you saw on the pitch. Anyway, I was very disappointed, but it was also a test for our young players.
"We will play in China at Beijing Olympics and the players have to learn how to control and adapt themselves under different situations.
"I do not care whether we win or not this time."
The Japanese coach refused to comment on the gap separating the two nations but said most members of the Chinese players had failed to impress him.
"I am not impressed by those Chinese players," he said.
"Maybe No 10 (captain Chen Tao) and two wingers are better than others."
Dujkovic said Japanese claims that its side was under-strength were just excuses, saying Sorimachiy's strongest squad would not have done any better.
"I do not see any differences whether they are without some best players or not," he said. "It is an excuse of its coach."
Dujkovic acknowledges Japan's advantages in organization and skill but still believes China's speed and athleticism can offset them.
"Yes, they are better organized and have better teamwork. But we have our edges like speed and strength," the coach enthused.
Chinese soccer's best chance to beat its arch foe lies with its under-22 outfit.
"Right now, we can still challenge Japan because we are physically stronger," said former international striker Wang Tao, now head coach of a Beijing U-18 team. "But when they grow up, it is really hard to beat them."
Wang led his young charges on a tour of Japan in June and found opposition sides were able to better control games.
"In the first half we use speed and body to balance the match, but in the second half, they began to control the match with skills and teamwork," he said. "They use long passes to expand the space while our players are at a loss as what to do.
"It is only at the reserve level. I cannot imagine how big the gap will be at the senior level in the future."