SHANGHAI - China's most eligible bachelor, basketball sensation Yao Ming, married his long-term girlfriend Ye Li at a jealously guarded private ceremony at a luxury hotel in their hometown Shanghai on Monday.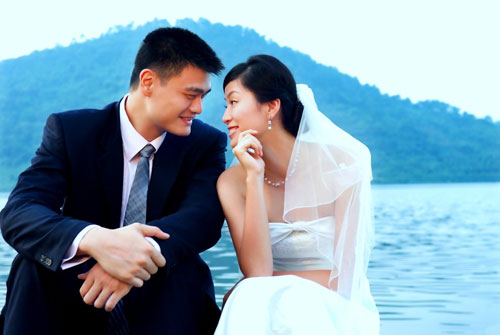 NBA star Yao Ming and his fiance Ye Li pose in their official wedding portrait in Hangzhou, China in this photo released August 6, 2007. Yao married Ye at a jealously guarded private ceremony at a luxury hotel in Shanghai on Monday. [Handout]
The 7ft 6in (2.26-metre) Houston Rockets centre and his 6ft 2in (1.90m) bride tied the knot after a seven-year relationship at a Chinese-style ceremony at the Shangri-La Hotel in Shanghai's financial district.
The three-hour ceremony was attended by more than 70 family members, said a statement released on behalf of the couple.
Dozens of security guards patrolled the hotel, across the river from the colonial-era buildings of Shanghai's historic Bund, to keep a scrum of Chinese and international media at bay.
Chinese media speculation over the ceremony date reached fever pitch last week when the couple were spotted at a scenic area near Taihu Lake in eastern Zhejiang province taking wedding photos -- Yao in a tuxedo and Ye in a white veiled gown.
The relationship between China's richest sportsman and 25-year-old Ye, also a basketballer with the China national team, has tickled Chinese media and sport fans for years.
The couple reportedly met as teenagers in 1999 when Yao was playing with the Shanghai Sharks, but their relationship only became public in 2004 after they were seen walking hand-in-hand at the Athens Olympics closing ceremony, according to the Shanghai Daily.
In January, 27-year-old Yao dismissed reports linking him to American television actress Nia Long, saying that at only 5ft 2in, Long was not his type.
The statement said Yao would travel to Beijing on Tuesday to take part in a ceremony marking the one-year countdown to the 2008 Olympics, before taking a break for the rest of the month to recover from a shoulder injury.