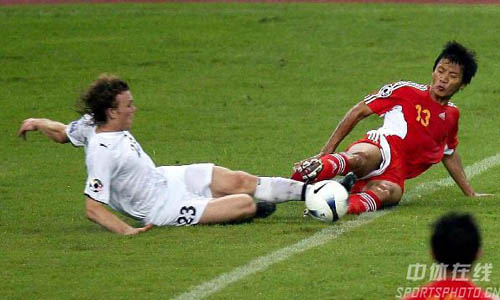 The Chinese soccer team (red) has been bundled out of the AFC Asian Cup, after losing to Uzbekistan 3-0 on Wednesday, July 18. [sportsphoto.cn]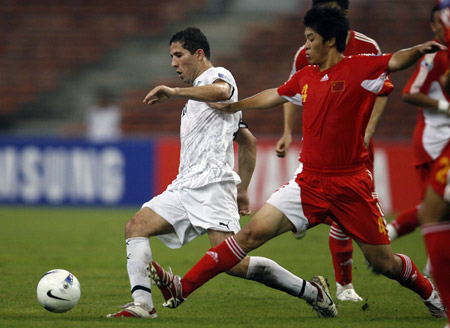 The Chinese soccer team (red) has been bundled out of the AFC Asian Cup, after losing to Uzbekistan 3-0 on Wednesday, July 18. [sohu.com]

China failed to reach the knock-out stage after suffering a humiliating 3-0 defeat to Uzbekistan at the Asian Cup here on Wednesday.

All three goals came via free kicks as Dynamo Kiev striker Maksim Shatskikh, midfielder Timur Kapadze and veteran Alexander Geynrikh struck late in the second half to break the hearts of the 2004 runners-up.
Iran finished top of the group on seven points after their 2-0 win over co-hosts Malaysia earlier on Wednesday, with Uzbekistan second on six points. China finished with four points and Malaysia lost all three matches.
China needed only a draw to qualify after a 5-1 victory over Malaysia and a 2-2 draw with Iran. Uzbekistan, who thrashed Malaysia 5-0 after losing 2-1 to Iran, needed to win to reach the last eight.
The match was marred by a serious neck injury to Chinese forward Han Peng who was taken to hospital after a collision with Uzbek goalkeeper Hayrulla Karimov in the final minutes.
Uzbekistan travel to Jakarta to face Saudi Arabia in the quarter-finals on Sunday. Iran stay in Malaysia to take on South Korea.
Uzbek coach Rauf Inileyev told reporters: "We spent a lot of time on free kicks because we felt that China were weak in that part of their game. In fact, our whole game-plan worked very well."
Chinese coach Zhu Guanghu, blaming defeat on absence of injured goalkeeper Li Leilei and defender Li Weifeng, is determined to carry on.
"I will not leave football," he said. "The coaching staff and players will learn from this defeat and move forward."
After a dour first half, Uzbekistan stunned the Chinese fans by taking the lead in the 72nd minute.
Substitute Victor Karpenko floated a free kick into the box and Shatskikh rose to head goalwards. Chinese stand-in keeper Yang Jun failed to hold on and Shatskikh volleyed in the rebound for his third goal of the competition.
Uzbekistan made it 2-0 on 86 minutes. Karpenko aimed his 25-yard effort straight at Yang, who was helpless as the ball bounced off his legs and Kapadze ran in to score.
Geynrikh sealed victory with a goal deep into injury time. His free kick from 25 yards came off the wall but Geynrikh collected the rebound to shoot through a crowd of players and into the net.