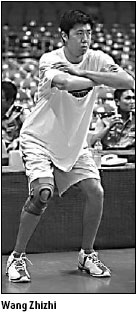 Former NBA center Wang Zhizhi has received invitations to train with two NBA teams and a European club, Sohu.com reported yesterday.
Wang's American agent Jeff Schwartz confirmed that he has received two formal training invitations from NBA eastern conference teams and one from Italian powerhouse Benetton.
Schwarts, who has signed with Infront, a Swiss-based marketing company that represents the Chinese Basketball Association (CBA) and the national team, told the website that he is dealing with the teams and will come to China in late July for in-depth talks with Wang. He added that Wang is capable of coming back to the NBA but refused to say which teams he could train with.
However, Wang's team, Bayi Rockets, said they haven't heard from Schwarts.
"We don't know about the news and his agent has yet to contact us," a team official who declined to give his name told Shanghai Xinmi Evening Post. "I doubt whether it is true, there is always a lot of hype surrounding Wang so I don't want to talk about it."
Wang led the national team with 23.5 points per game in its five-game NBA Summer League tour earlier this month, and he also led the team in rebounding and three-point shooting.
The center had a game-high 28 points and 11 rebounds in China's 105-100 loss to the Dallas Mavericks.
Wang was the first Asian to play in the NBA when he joined the Dallas Mavericks in 2001. He played for the Los Angeles Clippers and Miami Heat before returning to China last year to join CBA.
Pivotal player
Wang, dubbed "Big Zhi" by Chinese media, has become a pivotal player in China's drive for a medal at the 2008 Beijing Olympics.
At the 2006 World Basketball Championships in Japan, Wang teamed with Houston Rockets All-Star Yao Ming to help China advance to the second round. Without Yao, he led the team to gold in the Doha Asian Games.
Despite a strong charge from Yi Jianlian, Wang averaged 28 points to help his team win the CBA championship over Yi's Guangdong Tigers in April.
Before departing to the NBA in 2001 - and being kicked off China's national team for refusing to return to national duty - Wang had helped Bayi, an army-run team that plays in Ningbo, to six consecutive CBA championships.
His departure opened the way for Yao Ming's Shanghai Sharks to become the first team to dethrone the army team as league champions.
"Wang is so talented you cannot believe it," national team coach Jonas Kazlauskas said after the Asian Games. "In my coaching career there have been just a couple of players with more talent than him.
"It's in his hands. If he wants to, he can make it."
(China Daily 07/18/2007 page22)