BEIJING - Six-time NBA champion Scottie Pippen on Wednesday urged Chinese star Yi Jianlian to reconsider his refusal to play for the Milwaukee Bucks, the team that chose him in last month's draft.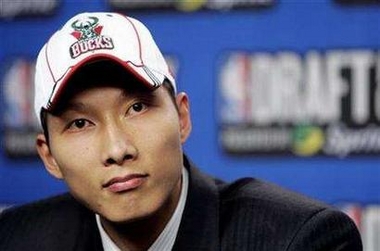 Yi Jianlian of China speaks at a news conference as he wears a Milwaukee Bucks cap after being selected by the Bucks as the sixth overall pick at the 2007 NBA Draft at Madison Square Garden in New York June 28, 2007. Yi wants to be traded to another team, according to the player's Chinese agent. [AP]
Yi was the sixth player chosen in the 2007 draft, but his management team has baulked at sending the seven-foot (2.12-metre) power forward to Milwaukee due to the small size of its market and a lack of ethnic Chinese fans there.
"Just looking at the fact that he doesn't want to play in that market, I think he should really try to reconsider and embrace the fact that not only are you a part of the NBA, but you have a chance to go out and make a name for yourself," Pippen told reporters here.
"The city of Milwaukee is going to be very happy to have him there. They are more than open and ready to embrace him," the former Chicago Bull added.
As Milwaukee is not a top tier team, Yi was likely to get ample playing time and the 19-year-old star could also benefit by teaming up with Milwaukee's All Star guard Michael Redd, Pippen said following a promotional appearance here.
"Michael Redd has established himself as an All-Star in the game, but they haven't fared well as a team, so I think this is a great opportunity if he welcomes it," Pippen said.
Yi averaged 24.9 points, 11.5 rebounds and 1.8 blocked shots a game last season for the Guangdong Southern Tigers, where he helped the team win three China Basketball Association (CBA) championships in five years.
Mark Fischer, managing director of NBA China, refused to comment on reports that commissioner David Stern was seeking to mediate terms between the Bucks and Yi's agents, but said it was likely Yi would end up in a Milwaukee uniform.
"We are pretty confident that Yi will end up in Milwaukee and enjoying it," Fischer said, adding he also thought it was in the power forward's interests to do so.
"From a CBA perspective, the important thing is for him to be in a stable situation and get good playing time and come back and help the national team ... (in Milwaukee) he will get playing time."