World record holder Liu Xiang won the 110 hurdles Tuesday at the Athletissima Grand Prix, running the season's third-best time despite the cold.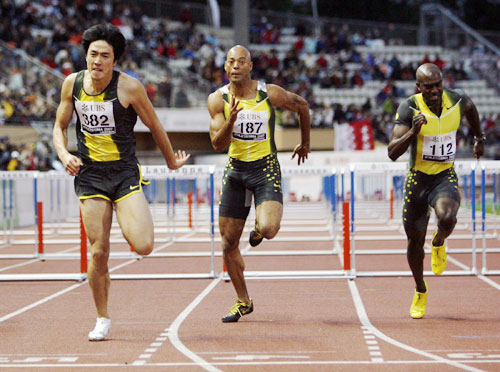 Liu Xiang of China (L) competes ahead of Dominique Arnold of the U.S. (C) and team-mate Allen Johnson (R) in the men's 110 metre race at the IAAF Super Grand Prix athletics meeting in Lausanne July 10, 2007. [Reuters]


Tyson Gay won the men's 200 with the season's fourth-best time.
Liu, who broke the 110 hurdles record last year on the Pontaise track, won in 13.01 seconds. Anwar Moore of the United States was second in 13.12 and Aries Merritt was third in 13.18.
At race time, the temperature was 11 degrees C (52 degrees F).
Last year, Liu ran 12.88 to set the world record he previously shared with Colin Jackson of Britain.
The Chinese hurdler was hoping to race against Dayron Robles, who beat Liu last week in Paris, but the Cuban withdrew from Tuesday's race.
Liu, the Olympic and world champion, ran 12.92 _ the fastest time this year _ in New York in June.
Gay, who posted the second-fastest time in history when he ran 19.62 at the U.S. trials in Indianapolis last month, finished in 19.78. Usain Bolt, who set a Jamaican record of 19.75 in June, was second in 20.11, and Wallace Spearmon finished third in 20.42.
World champion Michelle Perry won the women's 100 hurdles in 12.60, the sixth-best performance in the world this season.
The American again defeated European indoor and outdoor champion Suzanna Kallur, who posted her season's best at 12.62. The Swede was also second to Perry in both Oslo, Norway, and Paris.
Lolo Jones of the United States was third in 12.74.
"It's not easy running when it's this cold," Perry said.
Derrick Atkins of the Bahamas ran 10.04 to win the men's 100, which lacked the field's top stars. Churandy Martina of the Dutch Antilles was second in 10.10, while Shawn Crawford of the United States finished third with his season best time of 10.13.
"Everyday I step on the track, I'm there to win regardless who is in the race," Atkins said. "The main focus for me tonight was to win and I did that."
Irving Saladino of Panama won the men's long jump with a leap of 8.36 meters. Godfrey Mokoena of South Africa was second with 7.95, while Salim Sdiri of France was third with 7.82.
Tatiana Lebedeva won the women's triple jump at 14.47 meters, falling short of the world record, which the Russian had been hoping to break.
Marija Sestak of Slovenia was second with a jump of 14.26, and Keila Costa of Brazil came third with a leap of 14.25.