They might not have known Milwaukee from Malawi two weeks ago, but Chinese hoops fans and media say it's time for Yi to swallow his disappointment and sign a rookie contract with the Bucks.

"Yi, stand up and speak for yourself," said the Beijing Evening Post. "Don't hesitate any more and don't let anybody control your life."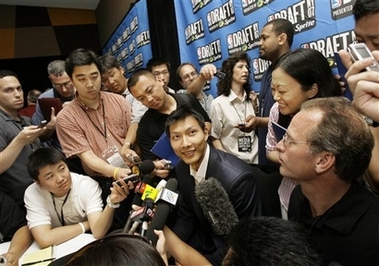 Chinese basketball star Yi Jianlian, in the top ten for Thursday's NBA Draft, endures a throng of reporters with a smile during a news conference in New York, Wednesday, June 27, 2007. The NBA Draft will be held Thursday at Madison Square Garden. [AP]
Yi was taken by the Milwaukee Bucks with the 6th pick of last Friday's NBA draft, despite his representatives warning that he had no desire to play there.
"Yi should decide his future by himself and sign with the Bucks," the Nanjing Morning Post said. "It is totally wrong to seek a trade after the draft. Yi will be under great pressure if he continues to be 'picky' like this."
"No matter if the team is strong or not, what is more important is that Yi gets lots of time on court. If the Bucks can give Yi more time than other teams, I suggest he stays with them," said fan Du Feilei from Zhejiang University. "A year of truly competitive experiences in the NBA will definitely lift Yi to another level and help Team China a lot if they want to win a medal (at the 2008 Beijing Games)."
An online poll by Sina.com found that 68 percent of more than 9,000 respondents want Yi to remain a Buck. Added to this, 46 percent think the Bucks is a suitable team for Yi to begin his NBA career with.
The forward finally met with Bucks general manager Larry Harris and coach Larry Krystkowiak on Thursday in Las Vegas, where he is competing in the NBA Summer League with Team China.
Increasingly, Chinese media and fans believe Yi's agent Dan Fegan is the main barrier preventing the player committing to the Bucks.
"Fegan will hamper Yi's future," former national team coach Qian Chenghai told Sina.com. "I don't think Yi refused to join the Bucks, it is Fegan who doesn't want him to join.
"We don't want to see Yi destroy his reputation in the NBA and return to the Chinese Basketball Association (CBA), that's horrible."
It is thought Yi wants to be in a major market with a large Chinese population - in many ways the opposite of Milwaukee. The city, in the northern state of Wisconsin, has a population of just 550,000 - only 1.7% of whom are of Chinese origin.
The Bucks had been excluded from seeing Yi work out before the draft as part of a strategy designed by Fegan to land him in one of a handful of desired cities.
This strategy did not work, and in the days after the draft Yi's Chinese agent confirmed that they were looking at trade possibilities.
But some believe Yi should prove himself on court before he tests his value on the market.
"The Bucks have promised to give Yi plenty of time, that's very important for him and also the best thing a rookie can ask for," reported Sina.com.
The Bucks have repeatedly reiterated their intention to retain Yi, and after some impressive moments in Las Vegas that desire is stronger than ever.
"It was a chance for our coaches to see him play in an NBA environment, with NBA rules, against NBA players," Harris told Milwaukee's Journal Sentinel newspaper. "It's been a win-win on a lot of different fronts."
Yi had 23 points and showed the aggression that many thought he lacked in China's game with Memphis Grizzlies on Friday, but then he struggled to just nine points on 2-17 shooting as China was routed by Sacramento Kings on Saturday.
After a slow start against Cleveland Cavaliers on Sunday - he had just three points in the first three quarters - Yi caught fire in the fourth adding 17. This included a turnaround jumper at the buzzer to give China an 85-84 win.
"There was a lot of contact, and he was able to finish it off and win the game for them. I'm proud of the young man and really happy to see China get a win in the summer league," Harris told the Journal Sentinel.
"I don't answer speculation, but from a Bucks standpoint we're doing everything we can to move the process along and have Yi as a Milwaukee Buck next season," he added.