His face is a flip book of emotions, showing happiness, fatigue and embarrassment without a single word. Having been in limelight ever since his historic Olympic gold-medal performance in the 110m hurdles in Athens three years ago, Liu Xiang has developed his own way of dealing with the media.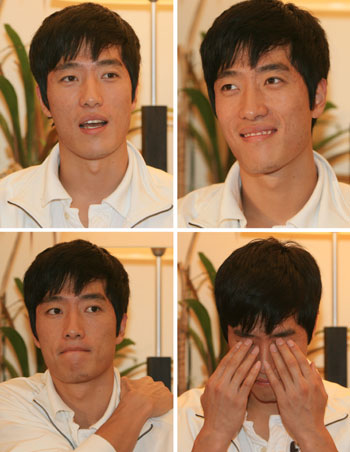 A compo photo shows Liu Xiang, China's Olympic champion and world record holder of 110m hurdles reacting at a press conference before the Meeting Gaz de France Paris Saint-Denis, the second of six meetings of the IAAF Golden League 2007 in Paris July 5, 2007. The star hurdler has won five out of six international tournaments so far this season. [Xinhua]
After landing in Paris for no more than five hours, hungry and tired, he was mobbed by French reporters at a press conference before his race at the Paris Golden League that started on Friday night.
"I can't control things beyond myself and what I can do is to control myself - to run faster," he replied to a journalist who asked how he values his popularity in China. "I will just try my best on home turf in 2008 instead of putting so much pressure on myself. I hope people can understand that."
Juggling a busy agenda this year in hopes of shattering his world record of 12.88 seconds and chasing his first world title in Osaka next month, Liu began his European tour on Thursday with Paris as the first stop.
The 24-year-old has clinched five out of six international meets so far this season. He raced his season-best of 12.92 seconds in New York earlier last month, making him the only person in the world to have four runs less than 12.94 seconds.
Asked about Lausanne, his second leg of this tour, and where he eclipsed the 13-year-old world record last year, Liu didn't think it was that special. "I will run as fast as I can wherever I am and I do not intend to break my record at a certain place."
"In Chinese, 12.88 is a lucky number because "eight" symbolizes "prosperity," he said playfully when journalists asked for his comment on his record and the possibility of a new one. "But no one knows what is his time will be before each race and it is the electronic timer who decides it," he joked and that generated laughter from the crowd.
During previous interviews, but both Liu and his coach Sun Haiping said it was too early to expect another new world record in Lausanne. "It is hard to predict. It is up to his own form and also other external conditions," Sun said.
Instead, Liu told the media the only way to win is to take each race as an ordinary one. "My wish in Paris is ordinary too," he joked again. "It is impossible for me to go shopping alone in China, so I hope to buy some clothes in Paris as a lot of stores are on sale in the city."
A fan's website joked that it is unnecessary to equip Liu with GPS when he gets lost because he will be mobbed by fans anywhere he appears. In order to avoid trouble, he nearly goes nowhere except his home, hotel, or training area in China.
"Do you think other athletes will be envious of your expensive advertisement endorsements?" asked one reporter in hopes of embarrassing him.
"I earn a lot because the sponsors recognize my achievements," he coolly replied. "Consequently; I have to pay high taxes as athletes are ordinary tax payers too."
He said he didn't feel comfortable shooting advertisements, "I don't think I look natural in ads. It feels like I was copied to create another version of myself," referring to his Amway advertisement co-starring with 100m race world record holder Asafa Powell.
Reports said Liu had signed five 10 million yuan endorsements this year and his price is expected to go up if he sets a new record.