BEIJING - Yao Ming has urged his Chinese teammate, Yi Jianlian, to hold talks with the Milwaukee Bucks, amid a stand-off between the star recruit and the NBA club who picked him in last week's draft.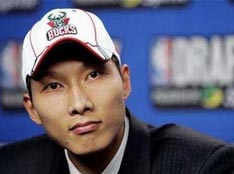 "I think as an international player, at the very beginning he should try to get in touch (with the Bucks)," Yao told Chinese reporters here Tuesday, referring to Yi and his management team's refusal to meet with the Bucks.
Yao, who has plenty of experience in the NBA as the Houston Rockets' star centre, urged his 19-year-old countryman to ensure he acts in his own best interests.
"Yi must walk his own road," Yao said.
"Chinese players are very modest, but this does not mean that he should not make his own feelings known."
Yi was chosen by the Bucks as the sixth pick in the NBA draft but his management team and the China Basketball Association (CBA) wanted him selected by a larger city with a bigger ethnic Chinese population.
The Bucks' scouts were not even allowed to watch him train before the draft.
Yi's management team is reportedly seeking to broker a trade that could get the seven-foot (2.12-metre) Yi out of Milwaukee and possibly to the Golden State Warriors who play in San Francisco.
Yao was speaking to Chinese reporters at a promotional event for the 2008 Beijing Olympics. His comments were posted on the sports website of leading portal Sina.com and in the state press on Wednesday.