The Milwaukee Bucks believed Chinese power forward Yi Jianlian was a steal with the sixth pick of last week's NBA draft. But the ramifications of the move were laid bare this weekend as Yi's handlers confirmed they were looking to get their client out of a city he wants no part of.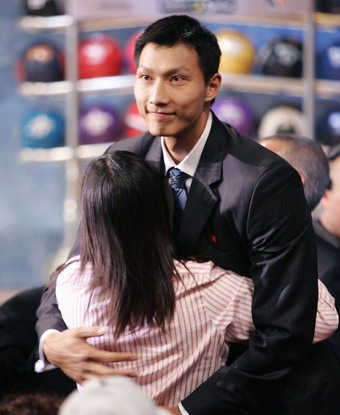 Yi Jianlian of China hugs an unidentified woman after being selected by the Milwaukee Bucks as the sixth overall pick at the 2007 NBA Draft at Madison Square Garden in New York June 28, 2007. [Reuters]


Yi claimed he was "totally surprised" to be taken by the Bucks - a team not granted access to his workouts - and his agent said that they are looking at trade possibilities.

"We started to contact teams that had shown an interest in Yi right after the Draft," Zhao Gang, Yi's Chinese agent, told China Daily. "His representatives and I won't sit here and do nothing just because he was picked by Milwaukee. We are considering Yi's future at the Bucks and are looking at trade possibilities."

"Yi's selection at six has proved his capabilities and value," he added.

Yi showed little emotion on draft night - in contrast to the celebrations of the other draftees - and he did not hold the traditional next-day press conference in his new city.

Instead of flying to Milwaukee he joined the Chinese national team in Dallas, where he will compete in the NBA Summer League.

On Sunday Yi scored 15 points and grabbed 9 rebounds in China's 91-75 defeat to a USA U-19 team. He refused to comment on his Bucks future, with US media quoting him as saying "I don't want to talk about that".

Led by experienced NBA agent Dan Fegan - who has yet to comment on the situation - Yi adopted an unusually restrictive workout strategy before the Draft to ensure he would land in a suitable destination.

It is thought Yi wants to be in a major market with a large Chinese population - in many ways the opposite of Milwaukee. The city, in the northern state of Wisconsin, has a population of just 550,000 - only 1.7% of whom are of Chinese origin.

GM optimistic

Bucks' General Manager Larry Harris talked up his pick after the Draft, and hit back at speculation Yi was chosen solely on the advice of his father, Dallas Mavericks' assistant and former Team China coach Del Harris.

"You're always defending decisions and things that you do. It's the nature of the beast in professional sports," Harris told Milwaukee's Journal Sentinel newspaper. "I guess having a father that coached him is irrelevant. I guess that doesn't matter, and he's been coaching for 50 years.

"I can tell you this. There isn't any other GM in the league talking about Yi who ever coached him, other than my father. I think I have a leg up on some people. But what I don't want to get misconstrued out there is, I've never seen the guy, and I woke up (Thursday) and drafted him. It's just not the case."

Bucks scout Scott Howard has seen Yi play 30 times over the last four years, the newspaper reported.

The Bucks are coming off a torrid 28-54 season. Led by Michael Redd and 2005 top pick Andrew Bogut, the team was expected to be in Playoff contention in a weak Eastern Conference. Injuries and disinterested defense put paid to that, but Bucks management believes Yi could be the piece that has the franchise finally moving forward.

"Yi could move into the starting line-up alongside center Andrew Bogut, or at least share time at power forward with third-year pro Charlie Villanueva, who is coming off shoulder surgery," Dave Babcock, the Bucks' director of player personnel, was quoted as saying.

"I think he fits perfect with them. He can really pass it. He and Bogut can play off each other. It's a good fit. The post-season is very attainable," he added.

Yet to make contact

Harris is yet to make contact with Yi, however, citing the power forward's international commitments in Dallas and next Las Vegas.

"We will encourage him to come here as soon as he can. But his priority is with the national team," he said.

Local media welcomed Yi's risky selection but warned of the consequences if he does not show up.

"Yi willingly entered the NBA Draft this year and must now abide by its rules, which state that the Bucks own his rights forever if he plans to enter this league," wrote the Journal Sentinel. "Short of a blockbuster trade, he has no other recourse but to play in the CBA."

The most notable example of an NBA draftee demanding a trade came in 1999, when No 2 pick Steve Francis refused to play for Vancouver Grizzlies. In acrimonious circumstances he was traded to Houston Rockets.

There are already reports linking Yi with a trade.

Philadelphia 76ers GM Billy King, who watched Yi work out in Los Angeles, said he would make efforts to sign one of the players already drafted before his 12th pick.

"Now, the next step involves teams that drafted guys that I have a high interest in," King told the Wilmington News Journal, referring to Yi and Joakim Noah who was taken 9th by Chicago Bulls.

"I will do everything I can to acquire them. There are also some people we've talked to about some other veterans. We've still got more work to do."

But Bucks owner Senator Herb Kohl is intent on keeping Yi, and has written a letter urging him to at least meet with team officials.

"We're going to try to establish personal contact with him and his family," Kohl said on Saturday. "I wrote him a letter yesterday. I requested a meeting with him and his family."