Yi surprised to be picked by Milwaukee in NBA Draft
(Reuters)
Updated: 2007-06-29 10:23
NEW YORK - China's Yi Jianlian, the first international player taken in the 2007 NBA Draft, said he was surprised by being selected with the sixth pick of the first round by the Milwaukee Bucks on Thursday.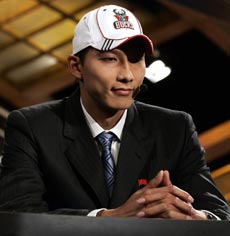 An athletic power forward who averaged 24.9 points a game for Guandong in the China Basketball Association, Yi had not worked out for the Bucks.

"It is a surprise to me as well because when I was in China Milwaukee didn't come to watch me play or to work out," Yi told reporters through an interpreter.

"The draft is just like a lottery to me."

Yi who trained in Los Angeles for two months to showcase his talents ahead of the draft, had declined to work out for the Bucks in what some observers interpreted as a move to discourage them from selecting him.

"Myself, I'm not really familiar with the city but I'm happy to play with the team and I'm happy to play in the NBA," he said.

"I didn't see a lot of Milwaukee's games in China and I've never been there, so it's kind of a new city to me."

Surprise Selection

Sun Qun, the editor of China's top basketball newspaper Pioneers, was quoted on the Web site sina.com as saying that the surprise selection might work out for Yi.

"He probably will not say 'No' to the Bucks. He is not American. He respects the NBA very much," said Sun.

"And the other aspect is that the Bucks are not a bad option. Since there are fewer good frontline players in the Eastern Conference, he would have more opportunities."

Yi will become the fourth Chinese player in NBA after Houston Rockets' All-Star center Yao Ming, Wang Zhizhi and Menk Bateer.

"It's a beautiful thing for Chinese players," Yi said about joining the league and following Yao, who was the number one overall pick in 2002.

"There are not that many Chinese players in the NBA at this moment. I'm looking forward to playing with Yao on the court and it will be fun to play with him in the NBA."

Yi added: "I didn't play with Yao Ming...in China. But we played together for the national team so we are team mates."
Most Commented/Read Stories in 48 Hours