BEIJING, June 18 - China coach Jonas Kazlauskas insists his comments about national team player Sun Yue needing to make a big improvement before he had any chance of reaching the NBA were misunderstood.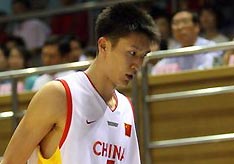 Kazlauskas was quoted by local media last week as saying Sun, currently at a training camp in the United States with the Washington Wizards, had "a long way to go" before reaching NBA standard, the China Daily said.
The Lithuanian said that by skipping national team training to try to secure an NBA draft pick, Sun had damaged his chances of selection for the 2008 Olympics.
Sun's club, Beijing Aoshen, on Friday filed a protest with the Chinese Basketball Association (CBA) demanding a formal apology and threatening a lawsuit for defamation.
Kazlauskas said he had been misunderstood by Chinese media, but stood by his comments.
"I am in an embarrassing situation. I don't know Chinese and I don't know how the media interpret my words," Kazlauskas told the Xinhua news agency.
"If you ask me which skill Sun needs to improve in terms of playing in the NBA, I'd tell you he needs an all-around improvement, because he is not strong enough to join the games there."
Sun, a 2.06-metre point guard, is rated an outside chance of being drafted into the NBA.
The CBA said they had approved Sun's trip to the United States but also backed Kazlauskas's right to speak his mind.
"As the head coach, Jonas is entitled to comment on his players," the CBA said in statement.