British rookie Lewis Hamilton won the U.S. Grand Prix on Sunday to take his second victory in a row and forge 10 points clear of McLaren team mate Fernando Alonso in the Formula One championship.
Hamilton crossed the line 1.518 seconds ahead of the double world champion for his seventh podium finish in seven extraordinary starts. Brazilian Felipe Massa was third for Ferrari.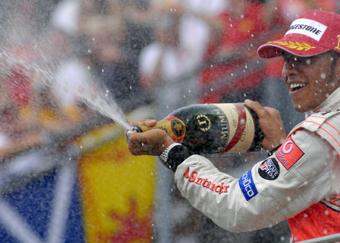 McLaren Formula One driver Lewis Hamilton of Britain celebrates with champagne after winning the United States F1 Grand Prix in Indianapolis June 17, 2007. [Reuters]


Hamilton's second pole to flag win capped a stunningly successful North American swing for the 22-year-old Briton with maximum points from the two races.

McLaren, with four wins so far this season, lead Ferrari in the constructors' standings by 35 points.

"What a dream," an emotional Hamilton told reporters. "I never thought in a million years I would be here today with these drivers and win two races in North America.

"To come to Canada for the first time and now Indianapolis for the first time and have the best two races of my life, it's an amazing feeling.

"Coming into the season you have to be realistic, I never expected anything but hoped to do well," he added. "I hoped maybe I could get a podium at some point but I have been on the podium the last seven races. It's insane."

COOL PERFORMANCE

Massa, followed home by team mate Kimi Raikkonen, put Ferrari back on the podium after being shut out in Canada. The top four finishers reflected their starting positions.

Sunday's race was only the second time in eight grands prix staged at the Indianapolis Motor Speedway since 2000 that Ferrari had failed to win.

Hamilton delivered another stunningly cool performance in the searing heat to lead McLaren to their third one-two finish of the season.

Finland's Heikki Kovalainen was fifth for Renault ahead of Italian Jarno Trulli in a Toyota.

Australian Mark Webber collected his first points of the season with seventh place for Red Bull while 19-year-old German Sebastian Vettel finished eighth for BMW Sauber and became Formula One's youngest point scorer.

Hamilton led from pole and posted a succession of fastest laps to open up a four second lead on Alonso. But after the first pit stops the Spaniard began to fill the Briton's rear view mirrors.

As the race reached the midway point the two McLarens were less than a half-second apart and engaged in a thrilling duel, Alonso darting out and trying to pass Hamilton down the long home stretch on lap 38.

Hamilton refused to wilt under pressure from a team mate who had sparked controversy earlier in the week by claiming his team mate was receiving preferential treatment.

"I was side by side once here on the main straight but again, it was not enough to overtake him," said Alonso. "Eight points are better than nothing."

He conceded that Hamilton's brilliant debut had been an eye-opener.

"It has been a surprise for me and a surprise for everybody to see him (Hamilton) doing so well and leading the championship at this point," said Alonso.

"But I have confidence. We only did seven races, 10 to go...the championship will be decided at the end."