Hot favourites China comfortably retained their Sudirman Cup world team badminton title on Sunday by beating Asian rivals Indonesia 3-0.
It was a repeat of the scoreline in 2005 when the biennial event was last contested and the sixth triumph for the Chinese in the 10 editions of the event since 1989.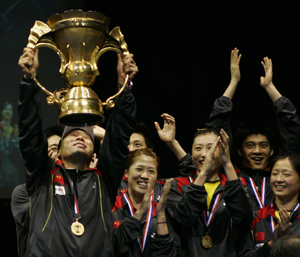 Chinese badminton team coach Lee Yong Bo (L) holds aloft the winner's trophy after the final of the Sudirman Cup World Team Badminton Championships in Glasgow, Scotland June 17, 2007.[Reuters]

But the final was surrounded by controversy over the sidelining of the standout clash between world number one Lin Dan and Indonesia's Olympic champion Taufik Hidayat.

China's mixed doubles pair of Zheng Bo and Gao Ling battled past Limpele Flandy and Vita Marissa 19-21 21-17 21-19 and the men's duo of Cai Yun and Fu Haifeng made it 2-0 when they beat Kido Markis and Candra Wijaya 21-11 21-13.

Olympic women's singles champion Zhang Ning sealed the title with a 21-16 21-9 success over world-ranked 44 Adriyanti Firdasari.

The 3-0 scoreline meant there was no need to play the women's doubles and the concluding men's singles, which would have featured a contest between world champion Lin and Hidayat.

In the running order for the final made on Saturday night a draw unhappily put the clash between Lin and Hidayat out last.

With China widely expected to win 3-0, making the last two matches redundant, officials tried hard on Sunday morning to amend the situation.

But no agreement could be reached and the original order stood, to the disappointment of the 2,000 capacity crowd and anger from television stations.

Championship director Anne Smillie told Reuters: "No one is more disappointed than me.

"We have put on a first-class show and the final leg of this first-class performance would have been brilliant had we seen a different order of play.

"The crowd and television networks round the world will be disappointed but it was impossible for us on this occasion to have the order of play altered."

Indonesia were making their seventh appearance in the final but have won only once, in 1989. China were in the final for the seventh time in succession.