Rafael Nadal rubber-stamped his credentials as the world's best claycourter at the French Open on Sunday to once again wreck Roger Federer's grand slam dream.
By bringing the world number one to his knees with a 6-3 4-6 6-3 6-4 exhibition, Nadal followed Bjorn Borg to become only the second man in 93 years to clinch a hat-trick of trophies at Roland Garros.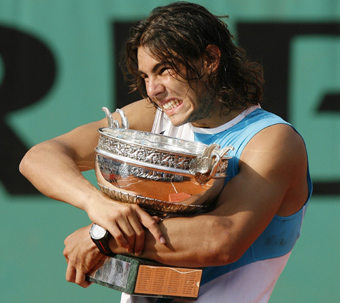 Spain's Rafael Nadal embraces his trophy after defeating Switzerland's Roger Federer in the men's final match at the French Open tennis tournament at Roland Garros in Paris June 10, 2007. Nadal captured a hat-trick of French Open titles with a 6-3 4-6 6-3 6-4 win over world number one Federer on Sunday. [Reuters]


Just as he did 12 months ago, the irrepressible Spaniard sabotaged Federer's valiant bid to join American Don Budge and Australian Rod Laver as the only men to hold all four majors at the same time.

It is a feat that has not been repeated for 38 years.

Federer's search for the elusive claycourt slam he craves will have to go on the backburner for at least another year thanks to a ragged performance in the final.

After committing 60 unforced errors and converting only one of 17 break points during a duel lasting three hours 10 minutes, it came as little surprise when the Swiss handed victory to Nadal by slamming a forehand long on the first match point.

UNDISPUTED KING

As the crowd stood up to hail the undisputed king of clay, Nadal promptly collapsed on to his back, legs splayed, and covered his face in disbelief.

He eventually found the strength to get up and, with the back of his shirt caked in clay, closed his eyes and held his arms aloft in triumph before clambering up to the stands to hug his family and friends.

Realising he had turned out to be a huge stumbling block in Federer's quest for greatness, Nadal told the crowd: "I am really sad for Roger. He is a friend and a great champion, whether he wins or loses."

"It's true that I feel at home here and I worked extremely hard for this. It's a dream to win again."

As a disappointed Federer stood on the podium holding his runners-up tray, visions of what could have been must have flashed through his tortured mind.

Looking on longingly as Nadal hoisted the Musketeers' Cup, the 10-times slam champion said: "I'm a bit sad but I fought, I tried.

"I know I can do it now, that's for sure. If I get it eventually, the sweeter it's going to taste."

Federer knew the numbers were stacked against him on Sunday, though.

NUMBERS GAME

Nadal had captured 16 claycourt titles, Federer's total stood at six. The Spaniard had a 20-0 win-loss record in Paris against 26-8 for the Swiss. Most notably, Federer had come up short in their two previous Roland Garros meetings.

But the 25-year-old harboured hopes of narrowing his 1-5 claycourt record against Nadal having beaten him just 21 days ago in the final of the Hamburg Masters.

That result had pricked Nadal's aura of invincibility as it snapped an 81-match winning steak on red dirt.

Looking for revenge, Nadal had warned: "I'm going to fight and struggle like a lion to make sure I have three cups at home rather than two."

It did not take Nadal long to bare his teeth.

Prowling the baseline with sweat glistening on his bulging biceps, Nadal bludgeoned ferocious forehands to save 10 break points in the opening set.

The 21-year-old Spaniard survived five of them in a riveting 17-minute game which took the score to 3-3.

The precise Swiss timing that usually accompanies Federer's exquisite shots broke down in the next game and he dropped his serve to love.

Sensing the match was slipping away from Federer's grasp in the second set, a fan in the stands cried out: "Right now, come on". As if on cue, Federer broke his Spanish foe for the first time to go 4-3 ahead, ending 80-minutes of growing frustration.

He held on to win the set but from then on was left dumbfounded as Nadal charged towards extending his perfect Roland Garros record to 21-0.