Chinese teenage sensation Guo Yue pulled herself together at 1-3 down, beating compatriot Li Xiaoxia4-3 in the women's singles final of the world table tennis championships on Saturday.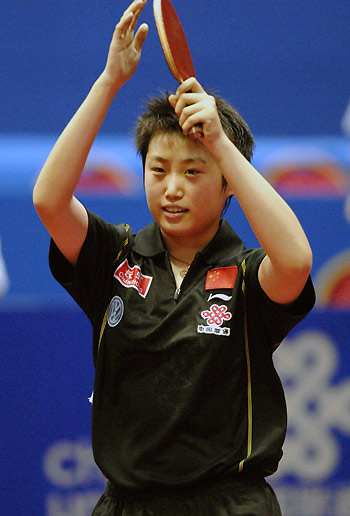 China's Guo Yue celebrates her victory over compatriot Li Xiaoxia in the women's singles final at 2007 World Table Tennis Championships in Zagreb, Croatia May 26, 2007. Guo Yue won the match 4-3 and claimed the title of the event. [xinhua]


Zhang Yining and Guo Yan, both of China, picked bronze medals.
The 18-year-old Guo was jolted awake in the fifth set, sweeping three sets in a row to triumph 8-11, 11-7, 4-11, 2-11, 11-5, 11-2,11-8.
Fourth-seeded Guo, who stunned defending Olympic and world champion Zhang Yining in the semifinals, didn't find her touch until the end of the fourth set, in which she had once trailed 0-9.
Guo used her forehand topspin and lightning backhand flicks to win the fifth set 11-5 and then the sixth 11-2.
Both players were technically correct in the final set but the championship game was usually a battle of minds. At the end of the fourth set the momentum was with Li, now it was with Guo.
Li looked disconsolate as she made errors with Guo moving into a 4-0 lead. When the players changed ends Guo was 5-0 ahead, prompting Li to call "Time Out". She returned to serve a clean ace.
Guo called "Time Out" with a 7-3 lead and then went ahead 10-4.
Saving four match points, Li closed it to 8-10. Then Guo served a topspin which looked like an underspin, Li misjudged the spin and returned well off the table.
"It was a difficult game," said Guo. "But a more difficult game will be the doubles semifinal against South Korea."
Guo, who won the mixed doubles with Wang Liqin on Friday, will take on Kim Kyung Ah and Park Mi Young on Sunday.
The other semifinal is between China's Olympic champs Wang Nan/Zhang Yining and Singapore's Li Jia Wei/Wang Yue Gu.
"I was a bit hesitant and made quite a few mistakes early in the final," Guo said. "When I was cornered, I told myself to fight to the end."
When asked if a world title would ensure an Olympic berth in 2008, Guo said she was not sure.
Li Xiaoxia, however, is hopeful of an Olympic ticket.
"I lost the final but had won the semifinal against Guo Yan," said Li. "With the Olympics one year to go, a lot of things will happen."
Chinese coaches are mulling over the selection of three singles players for the Beijing Games. Zhang Yining, a Beijing native and a grand slam winner of Olympic, world championships, World Cup singles titles, will be a logical choice, while Wang Nan, also a grand slam winner, is being considered for one more Olympic chance.
Guo Yue, Guo Yan and Li Xiaoxia will have to fight for the last Olympic ticket.
The problem is Guo Yue hailing from the same province with Wang Nan. Playing in an Olympic Games is a huge honor for Chinese local teams. If either of Guo and Wang, both from northeastern China's Liaoning team, makes it to the Beijing Games, the other has to go, said a Chinese team official.
In the last event of the day, Chen Qi/Ma Lin beat Wang Liqin/ Wang Hao in the all-Chinese men's doubles final, 6-11, 11-7, 6-11,11-3, 11-9, 11-9.
While the Wangs trailed 8-10 in the sixth set, a return by Wang Hao clipped the net to fall on Chen's table.
Following the lucky point, Wang missed an easy kill to hand the title to Chen/Ma.
Hong Kong duo Ko Lai Chak/Li Ching and Chinese Taipei's Chang Yen-Shu/Chiang Peng-Lung took bronze medals.
Earlier, Olympic champion Ryu Seung Min from South Korea made the world championships an Asian meet after beating Germany's Timo Boll in the men's singles quarter-finals.
Before the Ryu-Boll match, Belarus' Vladimir Samsonov had lost to world No. 1 Ma Lin of China, 11-9, 11-7, 12-10, 9-11, 11-6.
Boll, the third seed and last hope of Europe, wilted under barrages of Ryu's forehand topspin strikes.
The turning point came in the second set, when Ryu erased Boll's 6-0 lead with a 11-1 run.
Boll saved two match points in the fourth set but a return to the net and a wayward backhand shot ended his Zagreb campaign.
"Boll looked very nervous," commented Ryu after the game.
"I had made a lot of mistakes," said Boll. "But I have tried my best."
Ryu will take on defending champion Wang Liqin from China.
Wang Liqin, twice world champion, beat fellow Chinese Hao Shuai11-7, 11-5, 11-8, 11-8.
Earlier, Ma Lin trounced sixth seed Samsonov 11-9, 11-7, 12-10,9-11, 11-6 in a clash of two hungry tigers.
Ma has won four World Cups, but has never owned a world championship or Olympic singles title.
Samsonov has never claimed a world championship either, although he has won three European top honors and two World Cups.
Ma Lin, twice world runner-up, tried to avoid long rallies with the 1.90m-tall Samsonov as the penholder attacked early with powerful forehand.
The tactics worked well.
"We know each other's play and today's game was just a normal one to me," said Ma.
"Ma Lin is very difficult. I need something special in my game to beat him," said Samsonov.
In the other quarter-final, Chinese Wang Hao, a surprise loser to Ryu Seung Min in the 2004 Olympic final, beat South Korean Joo Se Hyuk 11-4, 11-9, 11-3, 11-3.