LeBron James dribbled at the top of the key, drove toward the basket and everybody watching in person and on TV probably thought he was going to shoot.

He dished and the decision backfired.

James passed to Donyell Marshall, who missed a wide-open 3-pointer with 5.9 seconds left that allowed the Detroit Pistons to escape with a 79-76 victory over the Cleveland Cavaliers on Monday night in Game 1 of the Eastern Conference finals.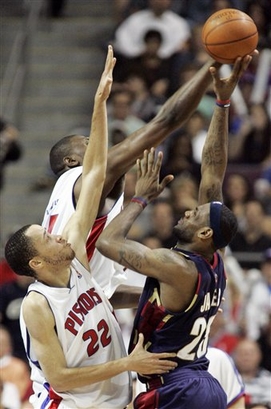 Cleveland Cavaliers forward LeBron James, right, is double-teamed by Detroit Pistons forwards Tayshaun Prince (22) and Jason Maxiell, who blocks the shot in the second half of Game 1 of the NBA Eastern Conference basketball finals Monday, May 21, 2007, in Auburn Hills, Mich. James was held to 10 points in a 79-76 loss to the Pistons.
[AP]


"I go for the winning play," James said. "The winning play when two guys come at you and a teammate is open is to give it up. It's as simple as that."
Marshall, who had six 3s in the Game 6 win over New Jersey in the conference semifinals, took the miss in stride.
"You're going to make some, and you're going to miss some," he said. "Unfortunately, that one was to win the game.
"I'd take that 100 times out of 100."
Chauncey Billups chased down the long rebound of Marshall's miss from the corner, and he later made one of two free throws with 2.4 seconds left.
James was scoreless in the first quarter and finished with a playoff-low 10 points, on 5-of-15 shooting, 10 rebounds and fell just short of a triple-double with nine assists. Despite frequent contact, James didn't attempt one free throw.
Tayshaun Prince played chest-to-chest defense against James when he didn't have the ball and had plenty of help when the 22-year-old star did.
"Everywhere he went, he had three guys in his face," Detroit guard Lindsey Hunter said. "We have to keep that up all series."
Game 2 is Thursday night at The Palace before the series shifts to Cleveland.
James took just three shots in the fourth quarter -- making one -- and defended the decision.
"You just have to take what's there," said James, who was averaging 26 points in the playoffs on an average of 19 shots. "It's not about taking a high volume of shots, it's about trying to win the basketball game. We had an opportunity to win."
Billups scored 10 of his 13 points in the final quarter, making all three of his shots including a 3-pointer that gave the Pistons a 78-76 lead with 1:52 left.
The point guard closed strong offensively in what was an unusually sloppy game with seven turnovers and five assists.
"We played bad enough to lose this game, no question about it," Billups said. "I think the sign of a really good team is you've got to win ugly games. We did just that. It could have went the other way, but we're up 1-0."
Detroit's Richard Hamilton scored 24 points and had seven assists, while Rasheed Wallace had 15 points, 12 rebounds and a career-high seven blocks and Chris Webber scored 10 points. Prince added eight points and a playoff career-high nine assists.
Prince was on James on the Cavaliers' play that ended with Marshall's shot.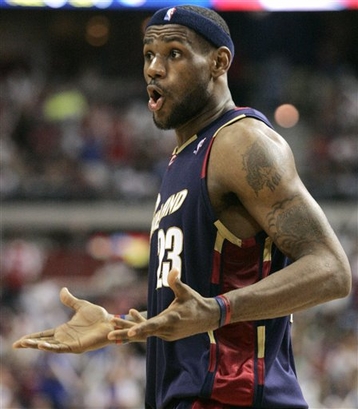 Cleveland Cavaliers forward LeBron James responds to shouts from the bench in the fourth quarter of their 79-76 loss to the Detroit Pistons in Game 1 of the NBA Eastern Conference basketball finals Monday, May 21, 2007, in Auburn Hills, Mich. James was held to 10 points in the game as Detroit won 79-76. [AP]


"I thought (James) was going for the shot," Wallace said. "But Tay was all over him and he got that pass off somehow."

Zydrunas Ilgauskas had 22 points and 13 rebounds for the Cavs, taking advantage of James' pass-first strategy. Larry Hughes and reserve Anderson Varejao each scored 13 points. Starting guards Sasha Pavlovic and Hughes combined for 21 points on 8-of-27 shooting

James, whose previous playoff low was 18 points, was outscored by five of his teammates until he made two straight shots toward the end of the third quarter.

"If he makes the pass and they score we'll live with it," Hamilton said.

The Cavs -- in their first Eastern Conference final since 1992 -- fell to 0-12 in Game 1s on the road.

For the fifth straight year, Detroit is among the NBA's final four and its experience seemed to help.

The Pistons didn't get discouraged when Cleveland got off to a good start and they made just enough shots and stops in the closing minutes to start the series with a victory.

"The second half was about will and determination," Wallace said. "They got everything they wanted in the first half, but in the second, we did what we had to do."

The Cavs led by as many as nine points in the first half and didn't trail in the game until Detroit started strong in the third quarter with a block and shot-clock violation on defense along with a 3-pointer and hook at the other end of the court.

The Pistons went on an 8-0 run to take a five-point lead and they led 56-55 entering the final quarter.

Detroit fell behind again in the fourth and didn't lead until Billups made a three-point play and a 3-pointer for a 71-68 lead with midway through the quarter.

Just when it seemed that the Pistons had control, the Cavs showed plenty of resolve in the back-and-forth quarter with an inspired effort that fell just short of their goal. Detroit beat Cleveland in seven games last year in the second round.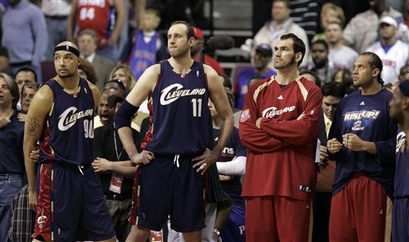 Cleveland Cavaliers, from left, forwrad Drew Gooden, center Zydrunas Ilgauskas of Lithuania, forward Scott Pollard and guard Ira Newble watch during the final seconds of Game 1 of the Eastern Conference basketball finals against the Detroit Pistons at the Palace of Auburn Hills, Mich., Monday, May 21, 2007. The Pistons defeated the Cavaliers 79-76. [AP]


"It shows how much we've grown," Marshall said. "Last year in Game 1, we got beat by 20 or so in the same arena. Today, it came down to the last shot."