World number one Roger Federer produced an astonishing turn-around to beat Rafael Nadal for the first time on clay courts in the final of the Hamburg Masters on Sunday.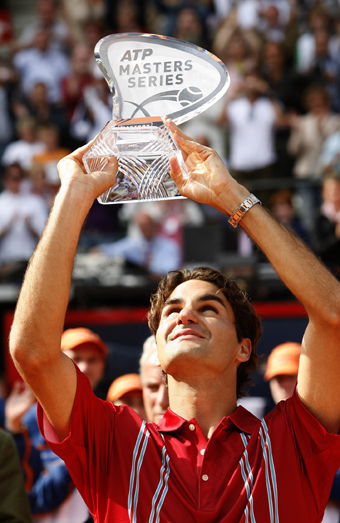 Switzerland's Roger Federer poses with the trophy after defeating Spain's Rafael Nadal in a final match at the Hamburg Masters Tennis tournament in Hamburg May 20, 2007. Federer won the match 2-6 6-2 6-0.[Reuters]


The triple Grand Slam titleholder's 2-6, 6-2, 6-0 win over the French Open champion underlined his belief that he has a chance of winning in Paris in three weeks and becoming the first player since Rod Laver in 1969 to hold all four Grand Slams at the same time.

"It does feel like a breakthrough," said Federer, after inflicting the first defeat on world number two Nadal on clay in more than two years and ending the Spaniard's record-breaking 81-match winning streak on this surface.

"I have the greatest of respect for someone who can win 81 matches on the trot like that - everyone knows how physically tough it is.

"I finally played well and I also played the right way against him," said Federer.

"Now we are going to the French Open and it's going to be interesting to see both our reactions."

But it required an amazing twist for it to come about. For an hour of the match Federer, whose form has been in a slump, looked a beaten man.

"I don't know exactly why the match turned around," said Nadal.

"I had chances at 2-1 in the second set and then he played very well.

"Maybe I was not the same like always mentally. I feel a little tired mentally, but physically I was OK. I have had a lot of matches and it's difficult, but I am very happy to have played Hamburg."

Federer was quickly behind, being outplayed in the first set, and was almost a break of serve down in the second. But after averting the crisis, the Swiss player's level went up fast as he took eleven of the next 12 games and the match.

It suggested that for Federer, who admitted to having been affected by his decision to part with coach Tony Roche last weekend, the match was played as much with the emotions as with the risk-taking brilliance of his tennis.

Federer nevertheless made a discouraging start. He could only get five first serves in during an opening service game, and in his second service game he was broken.

Nadal was playing his usual relentless weighty rear court game, varying the angles but taking few chances, and the rewards were coming unexpectedly fast against an uncertain opponent.

Federer got a warm round of applause from the crowd when he opened the second set with his best service game so far, but then he sunk to a new low, from which he seemed unlikely to recover.

But recover he did. Perhaps it was a feeling that things could not get worse which made it possible, for Federer attacked his way freely and impressively to four points in a row, two of them won from the net.

After this he sprung to life. Immediately he broke Nadal's serve for the first time, pummeling three fierce forehand winners, one of them with a return of serve which Nadal could not even lay a racket on.

And then he broke Nadal again in the eighth game. By this time the clay court king was beginning to look disconcerted by the penetration of the Federer attacks and was making uncharacteristic errors of his own.

Once Nadal pulled a forehand wide from a good position and pulled a face in disgust and then attempted a drop shot and netted it, throwing his head back in disbelief.

But Federer was playing unbelievably. His ground strokes were just as forcing but now with far fewer errors, and after Nadal had put a forehand wide at the end of a long rally to drop serve at 0-2 in the final set, it was clear the character of the match had altered.

Federer was also coming to the net more now, although on the most crucial point of the final set, the point which opened the door to a double break of serve at 4-0, he hesitated to come in.

At the second attempt he did so however, and his second volley elicited the passing shot error from Nadal that he had been hoping for.

"It was important to try to get on top of him and stop him dictating," said Federer. "In the first set maybe I was going for my shots too early but that's OK if I lose a set that way. So I wasn't worried.

"For me it's nice to be playing well again after last week's disappointment. I was struggling through the week because I had a rough draw, I think."

Nadal said: "I made more mistakes than usual - I played very short and he feels the ball well. But I came here and played some of my best tennis and I can't be sad that I lose one match to the world's best player. I shall go to the French Open just as confident."