China's gold hope Luo Wei, the Olympic and world champion, was knocked out in women's under 72-kilo semi-final on Sunday at the Beijing taekwondo worlds.
Luo is China's top player and gold medal hopeful at the championships, but lost to Lee In Jong from South Korea 3-1 at the semifinal.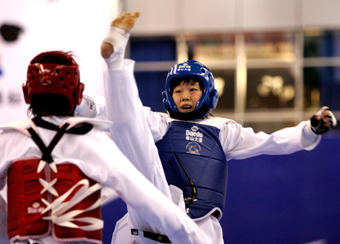 Luo Wei of China competes in the women's under 72-kilo semi-finals during the Beijing taekwondo world championships. Luo was knocked out by South Korean player.[Xinhua] 

As the Athens Olympic champion and 2003 World Championships gold medalist, Luo enjoyed thundering applause and cheering from the home crowd, but it was Lee's realm on the platform.
Luo received two warnings, which caused one-point deduction in the opening round for being inactive. Lee kicked a point down to lead 1 to -1 to end the first bout.
Lee attacked fiercely to establish a 4-1 lead in the second and further expanded her advantage to 5-1 early in the third. Luo's counterattack turned out fruitless and never scored again.
In spite of two penalties in the last bout, Lee stood out to win 3-1.
"The World Championships attracted the best players worldwide. Each athlete gave the best here and no one knew what would happen, " said Luo after the duel.
"I inflicted a serious injury before the tournament. The injury affected my performance a lot. I tried my best and I am satisfied with the result.
"I am still in recovery and far from my best form today. The injury is the main reason for my defeat. My leg hurt and I couldn't move around swiftly, so I missed a few opportunities to score," said Luo. "There is no problem with my strength, but the hurting leg is a big hindrance for me."
"We met in semi-final of Doha Asian Games, in which I beat her by one point. I am sure she has been studying me after that. She is a very experienced player and deserves the victory," added Luo.
"What I will do next is to recover from the injury soon."