Chicago is one win away from sending the defending NBA champions home for the summer -- in stunning style.

Ben Gordon scored 27 points, Luol Deng added 24 points and 11 rebounds and the Bulls used a 15-2 fourth-quarter run to seize control of a 104-96 victory in Game 3 of their Eastern Conference first-round series Friday night.

Chicago leads the series 3-0 -- a cushion no team has ever wasted in NBA history -- and will go for the sweep in Miami on Sunday afternoon.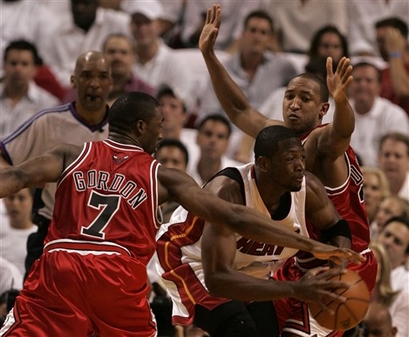 Miami Heat guard Dwyane Wade, center, tries to pass the ball as Chicago Bulls guard Ben Gordon (7), of England, defends in the seocnd quarter in the third basketball game of the first round of the Eastern Conference series in Miami Friday, April 27, 2007. [AP]


The Heat trailed by nine points with 2:33 left and got within 99-96 on a jumper by Dwyane Wade with 1:25 left, but got no closer. They led by 12 points in the third quarter, but misfired on 19 of their 35 free-throw attempts and were outscored 32-17 over the final 11 1/2 minutes.
Wade -- who shed the black sleeve he was using to keep his left shoulder, the one he dislocated in February, warm -- scored 28 points and Shaquille O'Neal added 23 points and 13 rebounds for Miami. But Wade was 4-for-10 from the foul line, O'Neal 3-for-12, and the rest of the Heat weren't much better.
Meanwhile, Chicago outrebounded Miami by a wide margin (44-33) for the third straight game, plus made 29 of 37 free throws.
Kirk Hinrich added 22 points for Chicago.
Antoine Walker had 12 points and James Posey scored 10 for Miami. Entering this postseason 78 teams had faced an 0-3 deficit.
"Nobody has came back from 3-0, and we don't want to be the team that it's done against," Deng said. "That has to be something we're focused on -- to know this team can really pick up how they play."
Alonzo Mourning's hook shot early in the fourth quarter put Miami up 79-72, but from there, it was all Chicago.
Gordon got the run started with a three-point play, P.J. Brown was credited with a basket that bounced in off Walker, Hinrich followed that about two minutes later with a shot in the lane that put the Bulls up 80-79, and they wouldn't trail again.
The Heat pulled out their best stops from last year's postseason, including covering every seat with white fabric and encouraging fans to dress in that color; most adhered, although Terrell Owens wore black at his seat one row from the court. And the atmosphere was electric just before tipoff, just like it was back on Oct. 31, when Miami got its championship rings moments before the regular-season opener.
Chicago wasn't fazed that night, either, winning 108-66.
The Bulls hit nine of their first 13 shots Friday to take a 23-15 lead on a basket by Nocioni with 3:10 left in the opening period, and Hinrich drove down the right side of the lane for a layup at the buzzer to make it 29-23. The Bulls shot 60 percent in the first quarter, getting six points off turnovers.
Things swung the other way in the second.
Miami outscored Chicago 29-16, shooting 55 percent and holding the Bulls to 29 percent from the field, and didn't commit a turnover over the second 12 minutes. Walker had nine points on 4-for-5 shooting, the Bulls managed only two field goals (both by Ben Wallace) in the first 6 minutes of the period, and Wade drove past Chris Duhon and Wallace for a two-hand dunk with 9.1 seconds left that gave Miami a 52-45 lead.
Midway through the third, Wade's shoulder got perhaps its biggest test since the injury.
He intercepted a pass by Gordon, headed downcourt on the break and -- as he rose toward the basket -- Gordon tackled him. Officials conferred, but no flagrant foul was called on the play, and Wade made one free throw for a 67-56 lead with 5:39 left.
The Heat, who never led by more than six in either of the first two games, went up 72-60 when O'Neal made two free throws with 6:59 left in the third. But Chicago closed the quarter on a 12-4 run, with Brown's 15-footer from the right baseline drawing the Bulls within 76-72 entering the fourth.