In an old style two-bedroom apartment house her family share the rent with a girl in Beijing's suburban district of Tongzhou, former long-distance running champion Ai Dongmei displayed all her medals to visiting journalists from CCTV - not for recalling her glittering career life, but to advertise the medals for sale.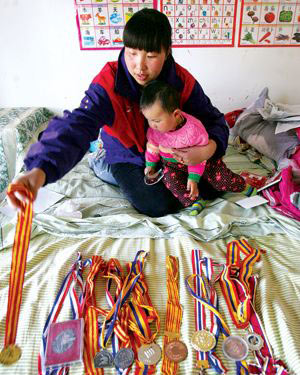 Ai Dongmei displays her medals in her room.
"I have no choice but to turn to my medals," said the former marathon champion of China's Huo Che Tou sports association. "I have spent all my money on the lawsuit."
Now the former runner is running short of money after suing her former coach Wang Dexian for embezzling her wages and bonuses last year. The court heard the case twice without pronouncing judgment.
Ai said the coach offered to keep some of his runners' salary bankbooks in the name that they were too young to keep the money. "But when I claimed my bankbook back finally, the money was not that much," she said.

Determined to go on with the lawsuit against her former teacher and make a living, Ai pinned the hope on her trophies, which is regarded as can't be measured by money, for financial support. She announced on her blog last Saturday that her medals are for sale.
How much are the medals, then?
1,000 yuan for a gold and a bronze costs 100 yuan.
She picked the bronze she won at the 1997 national games and told the visiting journalists that had not been the bronze Wang would have lost his job after the games.
But now the former teacher and student have to stand against each other on court.
Ai's former teammate Sun Yingjie, World Championships bronze medalist and three-time Beijing Marathon winner had been in the center of national attention last year for accusing the coach of regular whippings. Sun and Wang broke up after Sun's doping scandal at the tenth National Games was exposed in 2005.
Living on her salary of 300 yuan paid by Huo Che Tou every month, the once-powerful runner, with her husband and baby daughter now are vending small wares like children's clothes, towels and popcorns on street, earning 20 to 30 yuan per day on average.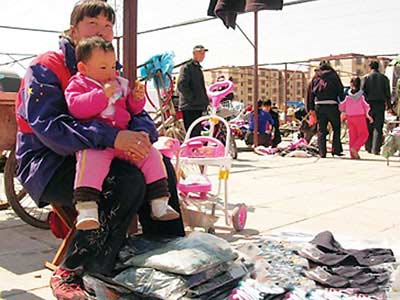 Ai dongmei sells her wares with her baby daughter in arms on street.
"Isn't the vendor the marathon champion?" Somebody on the street recognized her.
"I never bawl my wares," Ai said. "I never tout pedestrians unless they have interest in my wares, so I am earning very little."
Ai said she and some teammates were docked by the association from 700 yuan to 300 yuan after they sued the coach last September.
But an official of the association denied the dock, saying Ai's salary was not that little. The official said the association was obligated to land jobs for retired athletes but admitted the association's help was limited.
Wang refused to open his mouth when asked about Ai's case and the top official of the association gave no comments with the excuse that Ai no longer serves.
"I was heartbroken when I heard Ai's story," said Feng Shuyong, chief coach of China's track and field team. "Much is to be done to improve the benefit and placement of retired athletes," Feng said during an interview with Xinhua.
With her one-year old daughter toddling around her, Ai told the journalists that she would do everything to prevent the girl from sports even if she may have the talent. "It is a hard work to be an athlete, moreover, it may not end with a good ending," she said.
Ai, however, doses not represent all the retired athletes especially the former Olympic champions, who are enjoying entertainment, host or hostess, college students and entrepreneur lives after their sports career.
Is it because Ai was not as dazzling as those Olympic champions? The answer might be "no".
Luo Xuejuan, China's breaststroke queen and former Olympic champion said in a TV program that the swimming sports administrative center deducts 50 percent of simmers' bonus. "Why can't the money be spent on retired athletes?" she said.
The Huo Che Tou sports association said the compensation measure for retired athletes used for job-hunting had not been worked out.
An athlete can't carry on a lifelong sports career. Humanity is being called to avoid more retired athletes like Ai.