It is said that every exit is an entrance somewhere else, a fitting thought for veteran figure skating pair Shen Xue and Zhao Hongbo, who bade farewell to their sport two weeks ago and then thrilled their fans by announcing their engagement.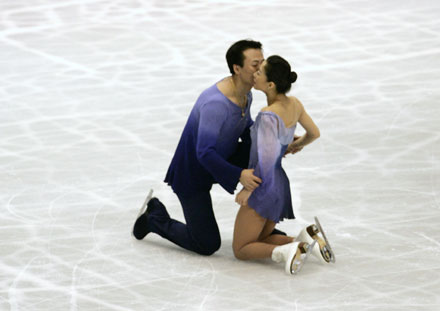 China's Shen Xue (R) and Zhao Hongbo kiss after performimg to win the pairs free program of the World Figure Skating Championships in Tokyo March 21, 2007. The pair announced their retirement after the championships. [Reuters]
The pair ended their illustrious career in style, capturing their third world title after an almost faultless performance in the free skating program.
But as they moved with bewitching grace to the sound of Jules Massenet's "Meditation from Thais," the electrified crowd in Tokyo had no idea what Zhao was thinking.
"The program for our free skating this season, the Meditation, is telling our own story," Zhao, 34, told China Daily. "When we are performing the program, it is just like we are looking back to our own experience.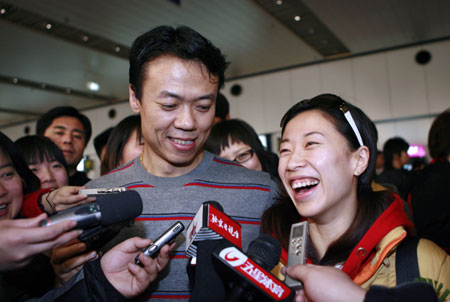 Chinese pair Shen Xue (R) and Zhao Hongbo of figure skating speaks to reporters at Beijing Capital International Airport in Beijing on April 1, 2007. Shen and Zhao arrived in Beijing after winning the gold medal at the 2007 World Figure Skating Championships held in Tokyo. [Xinhua]
"When I looked in her eyes during this program, I expressed my real feelings. In previous performances I was thinking professionally, which means I was thinking about other things while I was looking at her. This year, only she was in my eye."
After the performance Zhao knelt down on one knee to propose, but in a rare, unsynchronized moment, the unsuspecting Shen knelt down as well.
Zhao says he plans to formally propose soon with a ring, but Shen, 28, is already thinking about their wedding.
"People have planned all kinds of weddings for us, like a wedding on ice," she said. "Our coach said he will play the piano when we skate then."
"Actually, I can't say at which moment I fell in love with her," Zhao said.
"I think the love emerged naturally, especially when I broken my tendon before the Turin Winter Olympic Games last year. We experienced the most difficult time together and she gave me great support.
"After the Winter Olympics, we went to Canada, just the two of us. Living abroad, we had to trust each other and depend on each other. From then on, we got together. Our partnership led us to love naturally."
When the two were first paired up 15 years ago, such a fairytale conclusion seemed unlikely. For starters, Zhao would hardly talk to Shen.
"Unlike other older teammates, Zhao seldom talked to us young skaters. It made me afraid of him," Shen recalled on the pair's official website. "He was already national champion at that time. I can still remember that for the first month we didn't say a word to each other."
Despite this uninspiring start, success was not long in coming. After only four months together they won the 1992 national championships, and in 1996 they made their world championships debut.
Despite only finishing 15th, their ambitious moves and distinctive style marked them out as a pair to watch. They finished fifth in 1998, and in 1999 they came second.
Going into the 2002 Salt Lake City Winter Olympics Shen and Zhao were firmly in contention for a medal, but a failed attempt at the quadruple throw salchow, the most difficult movement in the sport, sent them tumbling from gold to bronze.
The pair recovered from the disappointment at the world championships later that year and claimed gold, something they repeated the next year.
It seemed that their time had come to become one of the most dominant pairs in the sport, but then injury struck.
The pair withdrew from the 2005 World Championships when Zhao injured his achilles tendon. He then ruptured it while practicing a triple toeloop in August 2005 and was off the ice for months.
"In my sports career so far, the time before the 2006 Winter Games was the most difficult for me," said Zhao.
Zhao's recovery was miraculous, and only half a year after the injury they stood on the podium with a bronze medal.
"The love will hold them together more tightly and they will do even better in their future career," Yao Bin, who has coached Shen and Zhao for 15 years, said on their official website.
"It is very hard for them to stay at the top for such a long time," he said. "Only they themselves know the hardships. A successful national team should never depend on veterans all the time. Their withdrawal is not a loss to the team. On the contrary, I hope it will inspire young skaters to take responsibility."
However, the veteran pair has refused to rule out a return to the rink in time for the 2010 Vancouver Winter Olympic Games.
"We will return if our form is still good then. After all, we need an Olympic gold," Shen told CCTV after the Tokyo win.
In the meantime, the couple will run a skating club in Shenzhen in South China's Guangdong Province to continue their efforts to promote their sport.
"Nothing lasts for ever," said Zhao on their blog. "Maybe another competition is head of us. We will try our best."