The British Football Association is to investigate an alleged racist incident involving Newcastle United's Turkey midfielder Emre Belozoglu, following a submission by Watford's French midfielder Al Bangura.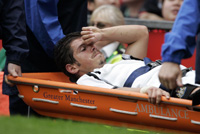 Emre, who already faces an FA hearing for alleged racially-aggravated abuse during Newcastle's defeat at Everton on December 30, had been linked by British media with two other reported incidents.
An FA spokesman said on Thursday: "Following the allegations which appeared in the media of alleged racist incidents involving Emre, the FA wrote to El-Hadji Diouf and Al Bangura to ask them if they were willing to provide statements.
"El-Hadji Diouf has responded and confirmed he does not want to pursue the matter.
"Al Bangura has responded with a statement and further investigations will now be made." Newcastle played Diouf's Bolton Wanderers in October and Watford in the League Cup in November and Premier League in December.
Emre has requested a personal hearing, yet to be scheduled, after denying a charge of using "racially-aggravated abusive and/or insulting words" in the Everton game.