DUBAI, United Arab Emirates - Top-ranked Roger Federer dropped a set for the second time in three matches but prevailed over Serbian teenager Novak Djokovic 6-3, 6-7 (6), 6-3 on Thursday to reach the semifinals at the Dubai Open.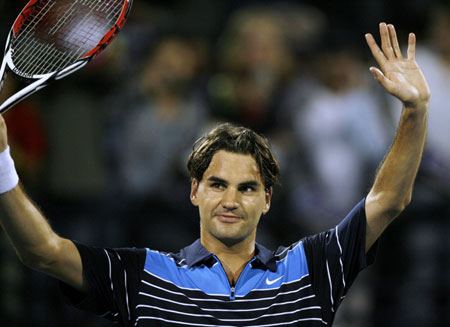 Roger Federer of Switzerland reacts after defeating Serbia's Novak Djokovic at the Dubai Open tennis tournament in Dubai March 1, 2007. [Reuters]
Federer, who on Monday broke Jimmy Connors' record with his 161st consecutive week atop the ATP rankings, committed 52 unforced errors and needed more than two hours to subdue Djokovic on the Aviation Club courts.
Also Thursday, Russia's Mikhail Youzhny upset No. 2 seed Rafael Nadal 7-6 (5), 6-3, capitalizing on an apparent incorrect call by the Hawk-Eye electronic line-judging system to overwhelm the rattled Spaniard.
He advanced to the semifinals along with Germany's Tommy Haas and Robin Soderling of Sweden.
Fifth-seeded Haas, winner last week in Memphis, extended his winning streak to 11 matches as he overwhelmed Belgium's Olivier Rochus 6-0, 6-2, while Soderling held off 2002 champion Fabrice Santoro to win 6-1, 6-7 (2), 6-0.
Federer, who also dropped as set to Denmark's Kristian Pless in his first-round match on Monday, next faces Haas, having beaten the ninth-ranked German in seven of their nine meetings.
"I definitely think my forehand is not working like the way it usually works," Federer said. "Some half-court balls, I usually put them away in my sleep. But I can't quite do that here for some reason, so that's a bit of a worry.
"But as the opponents get tougher, my game also rises to the occasion. That's what I expect again against Haas. I have played him a few times in my career. The guy, when he is playing well, he can play really, really well. He has definitely been on a roll lately and I am really happy to see him back playing after his two years of injuries."
Federer appeared to have won in straight sets, but Djokovic won a line challenge on match-point and prevailed.
"Maybe I should have closed it out earlier and not be in that position," Federer said. "I can see the headlines already, kind of going like 'Oh God, he missed match point with the Hawk-Eye,' and the whole thing. This wasn't exactly our best match, but I think it was more of a battle on the day, kind of who manages to play better. It was me in the end, so I am happy about that."
Nadal never seemed to recover after Youzhny won a challenge to reverse an out call and take the first-set tiebreak.
The Russian then broke Nadal to open the second.
"I lost the first set in the last point," Nadal said. "I saw and even the referee saw, the ball was outside. There was a mark on the court. The ball was definitely out, but when he challenged, it was in. So it was really unbelievable."
Even Youzhny admitted he was shocked that his challenge was upheld by Hawk-Eye.
"(It) looked like it was a little bit out. I saw the mark was a little out, but it was such an important point, I decided to call for the Hawk-Eye. Even I was shocked it was called in, because, to be honest, I thought it was out."
Haas lost only two points on his serve in the first set and needed just 49 minutes to eliminate Rochus, who upset third-seed Nikolay Davydenko in the second round.
"It was one of those days when from the beginning I felt quite well and moved well from the baseline. I never really gave him the opportunity to play his game," Haas said.
Santoro lost the first set and trailed 1-3, when he suddenly started hitting some exquisite shots to level the match by winning the tiebreak.
But the young Soderling proved too much for the 32-year-old Frenchman in the third.
"He plays like no other on the tour. No point is the same. He's coming to the net, he's hitting dropshots, he's hitting slice, everything," Soderling said. "You get no rhythm at all. He's a tough guy to play."