Everything was going fine until President George W. Bush dropped the ball.
Bush honored the NBA champion Miami Heat on Tuesday, joking with the team in his usual manner. But Shaquille O'Neal got the last laugh when Bush tried to bounce a basketball while standing next to the 2.16-meter (7-foot-1) star.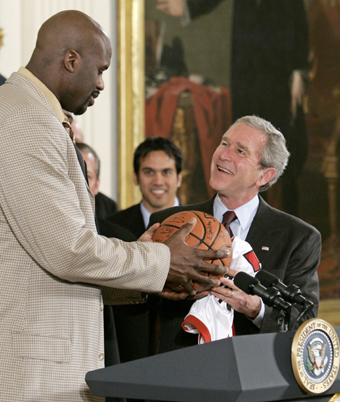 Miami Heat's Shaquille O'Neal (L) presents a basketball to U.S. President George W. Bush during a ceremony honoring the 2006 NBA Champions in the East Room at the White House in Washington February 27, 2007. [Reuters]

It thudded flat on the stage. Bush looked startled as O'Neal and his teammates laughed.

So much for the president's basketball career.

Bush lauded the Heat, the latest team to get the presidential treatment in the East Room. He noted that the team did it the hard way in the finals, losing the first two games to the Dallas Mavericks before winning four straight _ a rare feat _ to win the series.

"It was a team effort that got these men here to the White House," Bush said as the players stood behind him.

"They had the stars, everybody knew who they _ who the stars are, but it was the capacity to play together, to put the team ahead of themselves, that enabled them to be here at the White House," the president said.

Still, there was some star treatment on Tuesday. Most of the team entered the room, and then three big names had a separate entrance _ O'Neal, superstar guard Dwyane Wade and celebrity coach Pat Riley.

The president called O'Neal "one of the most well-known figures in the United States of America."

"Standing next to Shaq," Bush said, "is an awe-inspiring experience."

Wade, one of the top scorers in the NBA, came with his left arm in a sling. He dislocated his shoulder just last week and is now weighing whether to have season-ending surgery or enter a rehab program that could get him on the court in weeks.

"I know a lot of NBA fans, whether they like the Heat or not, are pulling for Dwyane to get back into action," Bush said. "We wish you a speedy recovery, Dwyane."

The championship was the first in the 18-year history of the Heat, and it came with contributions from some famous NBA players on the back end of their careers, like guard Gary Payton and center Alonzo Mourning.

Wade, meanwhile, is still awaiting a second medical opinion about whether to have surgery on his shoulder.

"That's a decision that's still being pondered," he told reporters. "My spirits are high."