Former Tour de France champion Jan Ullrich announced his retirement from competitive cycling on Monday, eight months after his career was put on hold by a doping investigation.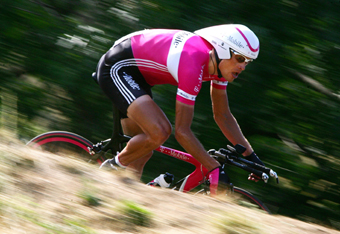 T-Mobile team rider Jan Ullrich of Germany cycles during the individual time trial 20th stage of the 92nd Tour de France cycling race in St Etienne, in this July 23, 2005 file picture. Former Tour de France champion Ullrich announced his retirement as a cyclist on February 26, 2007. The 33-year-old German, who won cycling's most prestigious race in 1997, said at a presentation in Hamburg he would join the small Austrian Volksbank team, but as an adviser rather than a rider. [Reuters]


The 33-year-old German, who won the sport's most prestigious race in 1997, said at a presentation in Hamburg he would work as an adviser to the small Austrian Volksbank team.

"I will continue my involvement in cycling but I'm ending my active career as a professional cyclist," said Ullrich, who has strongly denied any involvement in doping.

"I couldn't live without cycling. It's my passion and my life."

Ullrich was withdrawn from the T-Mobile team before last year's Tour de France after being linked with the Operation Puerta doping investigation in Spain.

He was suspended and then dropped by his team despite his insistence he was not involved.

Since then Ullrich has been without a professional team, although he has not been charged with a doping offence.

"I could easily have got a licence to ride," Ullrich said. "I had seven offers, including some from ProTour teams, and I'm still fit."

In a 43-minute monologue before the TV cameras, he slammed the way he had been treated by the German cycling community and described his continuing disbelief at the decision to prevent him riding the 2006 Tour.

"That was one of the worst days of my life," said Ullrich. "I was in good form and we were convinced we could go all out for the win."

Ullrich also won the 1999 Tour of Spain and two medals at the 2000 Sydney Olympics, gold in the road race and silver in the time trial.

He was 23 when he won the 1997 Tour and many predicted he would go on to dominate the sport in the manner of five-times champion Miguel Indurain, whose reign had ended the previous year.

INJURY PROBLEMS

But he suffered injury problems in 1998 and had to settle for second place in the Tour behind Marco Pantani.

Ullrich was unfortunate to spend most of his career trying to catch seven-times winner Lance Armstrong while never quite seeming to be fully fit himself.

The German finished second to the American in 2000, 2001 and 2003 and claimed third place in 2005.

With Armstrong retired, Ullrich would have been a strong contender in 2006 had the Puerta investigation not prevented him from racing.

In May, Spain's Civil Guard raided Spanish addresses and found anabolic steroids, blood transfusion equipment, dozens of bags of frozen blood and documents listing about 200 professional athletes, including cyclists, who police said were suspected of receiving illegal doping products and treatment from a Spanish doctor.

An investigation by a Bonn prosecuting attorney is still active and earlier this month Ullrich provided a DNA sample so that it could be compared with material from Spain.