China's Ma Xiaoxu, the AFC's Women's Player of the Year, will join the Swedish women's soccer champions Umea IK in a week.
The 18-year-old, seen as China's biggest football discovery in recent years, flew to her domestic club Dalian Shide on Sunday for the visa and will arrive in Sweden to sign the contract in a week.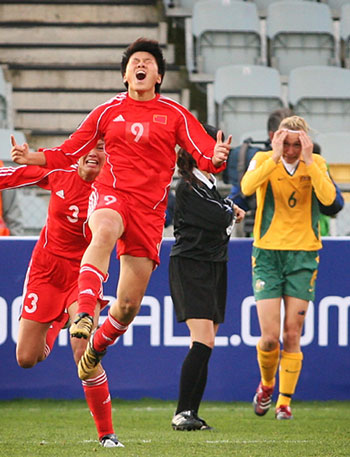 China's Ma Xiaoxu (9) celebrates her goal against Australia during their Women's Asian Cup final soccer match in Adelaide July 30, 2006. Ma's goal took the match to extra time. At the back is Australia's Rhian Davies. [Reuters]
This means Ma will miss the annual Algarve Cup starting on March 7 in Portugal.
Umea, who have reportedly agreed a six-month deal with Ma starting from the new season in April, are one of the top women's clubs in Europe with five domestic championships and two European crowns in the past seven years. Their side includes FIFA Women's World Player of the Year Marta and Swedish talisman Hanna Ljungberg.
As well as being named AFC's Women's Player of the Year last November, Ma was also named Youth Player of the Year, the first-ever woman to win the award.
Apart from the two Asian Football Confederation honors, she also bagged the Golden Ball and Golden Shoe awards at the 2006 FIFA U-20 Women's World Championship in Moscow.
Her talent has seen Chinese fans and media compare her to Manchester United's Wayne Rooney.