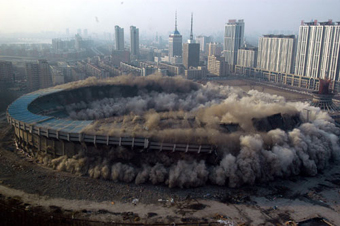 Smoke billows out from the demolition site of the Wulihe Stadium in Shenyang, northeast China's Liaoning Province, Feb.12, 2007. The dated stadium, where China got its first ticket to men's World Cup finals after defeating Oman in 2001, will be replaced with shopping centers. [Newsphoto]


Shengyang Wulihe Stadium, where the first Chinese soccer team to ever qualify for the FIFA World Cup won its qualifying match, was demolished in just 6.6 seconds on Feb 12, leading web portal sina.com reported.
Upon hearing the news of the upcoming demolition, Sun Changlong, president of the Shenyang Soccer Fans Association got emotional on his blog, even threatening to end his own life as his beloved stadium fell. Resentful president left home early in the morning yesterday and didn't show up until the collapse ends. No one knows his whereabouts including his wife.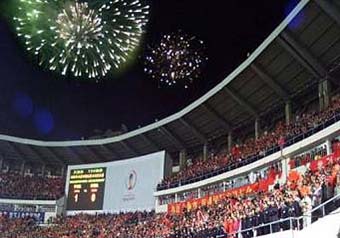 Wulihe Stadium on the day of Chinese soccer team first ever qualified for the World Cup on Oct.7th,2001.[sina.com]


China's soccer team won 1-0 in a match against Oman that advanced them to the Korea-Japan World Cup finals at the stadium. Since then, Chinese soccer fans view the stadium as a place of good luck for the team and Chinese soccer.
As for Sun, the stadium is doubly significant. Not only did he see the match that got China into the World Cup competition, but he also raised money to build statues of the Chinese head coach of the time and the national team standing in front of Wulihe Stadium square.
The stone figures Sun treasured so much made him still in debts today. But those are taken away as early as January this year and abandoned in a crematorium warehouse in a Shenyang suburb, sina.com quoted Sun's friend, experienced sports journalist Hao Hongjun as saying.
Hao told sina.com that it is sad to hear of the demolition. "It could be said that Wulihe has hosted the most significant event in Chinese soccer history," he said.
Even though the local Soccer Fans Association did not receive authorization to organize any large-scale activity, a large number of people gathered nearby taking photos and videos of the demolition.
Security guards were stationed every five or six meters around the perimeter to maintain order as the destruction of the stadium is a sensitive issue for many fans.
Five years ago Shenyang beat out five other cities for the privilege of hosting the World Cup preliminary match, which ended in the Chinese team qualifying for the World Cup.
Hao expressed his disappointment in line with Sun in a sports talk-show program 'Daily Sports Meeting", run by Hong Kong-based Phoenix TV at the end of last year when he reported the impending destruction from inside the stadium.

"There couldn't be a more tearful farewell to the stadium, could there?" he asked.