BEIJING -- China's Olympic doubles champion Li Ting has retired, local media reported on Monday, striking a blow for Team China's preparations for the 2008 Beijing Games.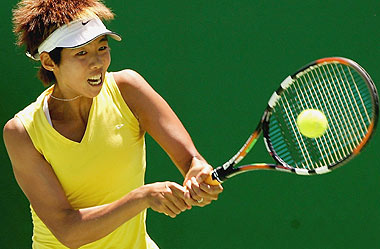 Li Ting [163.com/file]


Li, 27, who won doubles gold at the 2004 Athens Olympics with Sun Tiantian, had sought to retire several times, the Beijing News quoted Sun Jinfang, Chinese Tennis Association (CTA) director, as saying.
"We still hoped that she would not give up and play on," Sun said. "But she had been forced to retire because of her physical condition."
Last month, the CTA announced that Li would be split from current doubles partner Peng Shuai in a bid to ensure China would have the best possible pairings for the 2008 Games.
Li's retirement was a "great pity," Jiang Hongwei, China women's head coach told the paper.
"It's a loss to the team," Jiang said.
Jiang said the team would "research" pairing Peng Shuai and Sun Tiantian.
"They have never partnered, but we hope they can be effective. With Li Ting retired, we need a women's doubles pair to back up Zheng Jie and Yan Zi," Jiang said.