China's Olympic champion hurdler Liu Xiang's track shoes fetched 200,000 yuan (25,000 U.S. dollars) at a charity gala auction in Beijing on Sunday, breaking his own record made at a similar event two weeks ago.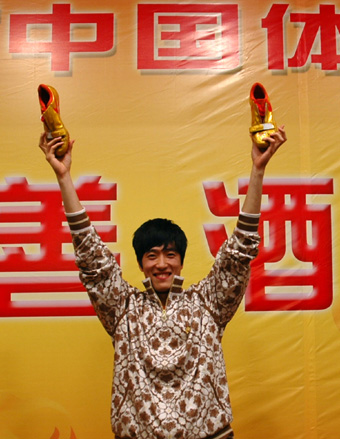 Chinese Olympic champion Liu Xiang (R) presents his gold-colored track shoes in Wuxi, south China's Jiangsu Province Jan 21, 2007. Liu's shoes has been auctinoed at 150,000 yuan(US$18,750) .[sina.com]
The running shoes, autographed by the 110m Olympic title and world record holder, were among items that raised money for the schooling of migrant workers' children.
The shoes were bought by Air China, which donated another 600,000 yuan at the charity gala jointly held by the China Youth Development Foundation (CYDF) and the China Central Television (CCTV).
Another pair of Liu's track shoes were auctioned at a charity auction for disabled and injured athletes on January 21 for 150,000 yuan.
Broadcast live for 17 hours on CCTV, the auction collected 3.39 million yuan for the charity fund targeted at migrant children, whose schooling in cities has caused great concern in the country.
Retired diver Xiong Ni's gold medal in the 2000 World Diving Championship fetched 1.28 million yuan, the dearest deal reached at the auction.
China's first Taikonaut Yang Liwei and world champion diver Guo Jingjing also had their valuables auctioned at the charity gala to contribute to the fund.