CHANGCHUN, Northeast China - China did not move to the top of the podium but have edged close to the curling victories at the 6th Asian Winter Games here on Thursday.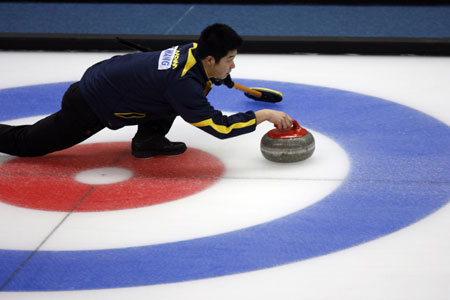 Fengchun Wang of the Chinese men's Curling team launches the stone down the ice against Japan at the Asian Winter Games in Changchun, China's northeastern Jilin province January 30, 2007. [Reuters]
The hosts failed in the semifinals when their men players lost to Japan 8-4 and their women counterparts were defeated by South Korea 9-5 in Thursday morning's semifinals to settle for the bronzes, the same finish at the last edition in Aomori, Japan in 2003.
"We did not improve in terms of results but our players have made great progress in the past few years," said Chinese women's team coach Tan Weidong.
"We are edging closer to Asian leading powers Japan and South Korea," he said.
"I think China have made amazing progress in such a short time. It normally takes 10 to 15 years before a team can compete at international level but China made it in just five years," said Ian Michael Thomson, secretary general of the World Curling Federation.
Defending champions South Korea found Japan a close match Thursday afternoon when the two sides tied at 2-2 after 10 rounds in the final before the formers clinched the decisive winning point in the first playoff to lift the men's title at 3-2.
In the women's match in the evening, South Korea rallied from 2-6 to overcome defending champions Japan 7-6 to trike the gold.
Kazakhstan had been eliminated without a win after the double round robin phase.
There were four teams in both the men's and women's competition.