ROME, Jan 30 - Brazil striker Ronaldo finally signed for AC Milan on Tuesday, returning to Italy after a mixed spell at Real Madrid where he went from Galactico to forgotten man.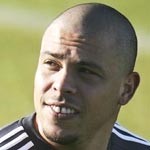 The 30-year-old former Inter Milan forward, three-times FIFA World Player of the Year, has signed an 18-month contract until June 30, 2008, the Serie A club announced.
Milan are paying 7.5 million euros ($9.7 million) for the Brazilian up front and an extra 0.5 million if they qualify for the Champions League this season or next, the Italian club's vice-president Adriano Galliani said.
"It is a very satisfactory agreement for a top-class player," Galliani told reporters at the Bernabeu in Madrid where Ronaldo signed his new deal.
"I'll be delighted to pay the full eight million because it will mean Milan have qualified for the Champions League."
Ronaldo's exit effectively brings the curtain down on the Galactico era at Real following the departures of Luis Figo and Zinedine Zidane and David Beckham's decision to sign for Los Angeles Galaxy.
Despite scoring 104 goals since joining Real in August 2002, Ronaldo won only one major title -- the Spanish league in 2003.
He complained he felt unloved by the fans and cut an increasingly isolated figure after the departure of his chief ally, former president Florentino Perez, last February.
CAPELLO CRITICISM
The appointment of new coach Fabio Capello, a man who embodies the antithesis of Ronaldo's happy-go-lucky vision of attack-minded football, sealed his fate.
When the Italian criticised Ronaldo for being overweight and said he would play no part in his plans, the striker began to angle for a transfer and he finally signed for Milan after weeks of negotiations.
Capello said he hoped Ronaldo's career would lift off again in Milan.
"I wish him the best of luck in doing what he used to do which is being a great player," he told Italian regional TV station Telelombardia.
Ronaldo made reference to the deterioration of his relationship with the Italian coach as he left the Bernabeu on his way to the airport.
"I would like to thank the fans who've supported me all the time and thank all the team mates that I've had here and all the coaches I've had -- except one," he said.
"It's sad because I've been here four-and-a-half years, but now I've got another important challenge in my life and that is to succeed in Milan.
"It breaks your heart, but that's life. It is a shame.
"I never had any problems with the coach, but he didn't want me and as I'm a professional I wanted to carry on playing and so we looked for another solution."