HANGZHOU, Eash China - Luo Xuejuan, who won China's only swimming gold medal in the Athens Olymic Games, announced retirement due to heart problems here on Monday, some one and half years before the 2008 Olympics opens on home soil.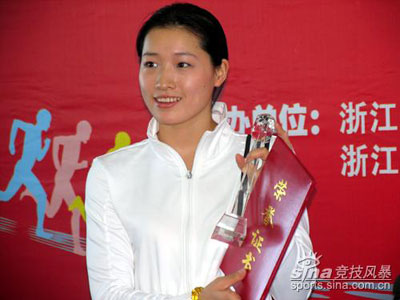 China's Olympic and world breaststroke champion Luo Xuejuan poses with a certificate and an honor cup during the press conference held to announce her retirement in Hangzhou of Eastern China's Jiangsu Province January 29, 2007. Luo, China's 2008 home arena hope in pool quitted because of problems with her heart diseases. [sina]

Luo, three days after celebrating her 23rd birthday, told reporters at a news conference held in her hometown that she still hopes to do what she can for the Beijing Olympics.
"It has been seven years since I joined the national team, which I always regard as my home. As an Olympic and world champion, I will try to make contributions for the Beijing Olympic Games," she said.
Luo won the women's 50 and 100 meters breaststroke events at both 2001 and 2003 world championships. She captured the 50m title at the Athens Olympics in 2004, which was China's first Olympic swimming gold in eight years.
She has been plagued with heart problems since 2006 and stopped training last November. Medical experts in Beijing and Hangzhou suggested that she should not continue her professional career although the heart problem will not affect her normal life.
Luo will study international relations in China's prestigious Beijing University. "I will work as hard as I did in swimming. Maybe I will get involved in the Beijing Olympic Games in a different capacity."