China's ice hockey teams may not be a major force in the world game, but the hunt is on for young talent to take the game forward.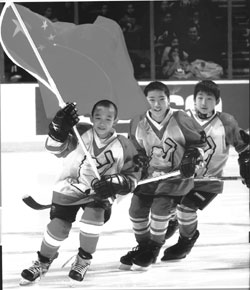 A young Chinese ice hockey team was sent to play in the US under Project Hope. Courtesy of Project Hope.[China Daily]


"Our goal is to find a 'Yao Ming' for China's ice hockey team," said Angela Ruggiero, director of Project Hope, initiated by Charles B. Wang, owner of National Hockey League (NHL) team New York Islanders.
A young Chinese ice hockey team was sent to play in the US under Project Hope. Courtesy of Project Hope
The project was launched in August last year, and over the next five years it will aim to establish a China Ice Hockey Training Centre, three Women's Ice Hockey Training Bases, 30 primary and 10 middle schools under Ice Hockey Project Hope.
So far, the project has involved eight schools in Harbin, Qiqihar and Jiamusi, three major cities in northeast China's Herlongjiang province.
"Currently, we are working on getting more equipment to the kids, translating Canadian ice hockey coaching manuals for all the coaches so they can help the kids," said Ruggiero, who is a former member of the US Olympic women's ice hockey team.
Ruggiero says she is excited by the potential she sees.
"They are very talented, they work extra hard, they smile a lot and they do exactly what you show them to do," she said. "It is really exciting to be here to see them smiling and enjoying the sport of ice hockey."
China used to have about 20 teams in the early 1980s and the men's team advanced into Pool B of the World Ice Hockey Championships four times in 1979, 1981, 1986 and 2001. But some cities dumped their teams because of a lack of facilities.
Now, China's national team mainly depends on the three remaining squads.
Wang and the New York Islanders have started paying attention to the sport's status since 2004. The club sent a manager to China in 2004 and set up its Harbin Representative Office. In 2005, 300 full sets of hockey equipment, worth $200,000, were donated to the China Ice Hockey Association.
The Islanders also sent its own coaches to China, helping assist China's women's national team.
"The goal of Project Hope is to start with the kids, building primary schools, some middle schools and eventually some high schools. This is so that as the kids develop, they can move on and develop their hockey, develop their English and keep studying, all of which is important to us," said Ruggiero. "They keep going up in the ladder and eventually they will be great members of China's ice hockey team."
A former player herself, Ruggiero has competed against the Chinese women's team and in her view what is lacking more than anything is competition experience.
"I don't think the Chinese players have the same opportunities as the Americans, the Canadians and the Europeans," she said. "Playing ice hockey is hard. They have to get on the ice. I learned today that there are 20 indoor ice rinks in China, which is not many. I hope through Project Hope and support from the government, they can play more games, get better coaching. That's the key to success."
"We will continue to have more coaching clinics and more drills and ideas on how to teach hockey, because it is a hard game," she said. "The important thing is that the kids have the ice."
Providing scholarships for Chinese students to study in the US is Ruggiero's main task at present.
"The big part of Project Hope is to provide scholarship opportunities for some kids to go to our schools. The New York Islanders will pay for a great education chance there. They can continue to play hockey and go back to China to represent their national programs."
The scholarship program will start this summer and five candidates have been selected through tests.
"We are going to help them apply to summer school, where they can play hockey, learn English and improve their academic level," she said. "We will bring as many as we can this summer."