Teenager Ding Junhui's week at Wembley has confirmed his status as the most exciting young talent in snooker and kept him on course to being China's next sporting superstar.
Despite his defeat in the final of the Masters on Sunday, his exploits have dominated the sports pages back home and the huge public interest moved state TV to provide coverage of the final three rounds at the last minute.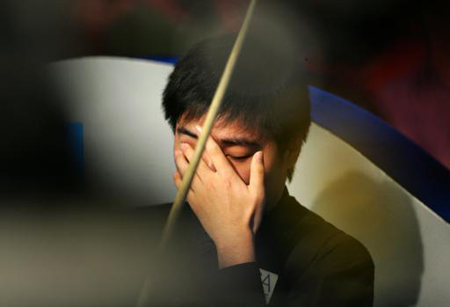 China's Ding Junhui reacts after losing to former world champion Ronnie O'Sullivan at the Snooker British Masters finals January 21, 2007. O'Sullivan crushed Chinese snooker prodigy 10-3 to win his third British Masters final.[sina.com]
China likes nothing better than an international winner and on the form he showed in London, Ding looks certain to add more rankings titles to the three he has already won in a sport that claims 50 million players in his home country.
His defeat to Ronnie O'Sullivan on Sunday came a week after he replaced the Englishman as the youngest player to register a televised maximum 147 break.
"If he's going to keep playing like that, he'll be around the top four players for the next 10 to 15 years," said world number one Stephen Hendry after losing to Ding in the semis.
While the ice-cool Ding is not yet in the celebrity realms of basketball's Yao Ming or world record holding high hurdler Liu Xiang, time is on his side.
He is still a couple of months shy of his 20th birthday -- an April 1 celebration that, coincidentally or not, takes place on the day of the final of this year's China Open in Beijing.
MIS-SPENT YOUTH?
It was at his home tournament in 2005 that Ding announced his arrival at snooker's top table when he won his first ranking tournament by defeating Hendry in front of a television audience of 110 million.
More success was to come later that year when he won the UK championship by beating another of the greats of the game, Steve Davis.
The huge television ratings had not gone unnoticed by a sport still struggling to break out of its British heartland and World Snooker has its only staffed international outpost in Beijing.
Ding was born in Yixing near Shanghai and took up snooker at the age nine when he joined his father and friends in a game.
He is no exception to the rule that snooker talent is born of a mis-spent youth -- his fulltime education ended at the age of 12 -- although the Shanghai Daily reported recently that he had accepted a place at the city's prestigious Jiao Tong University.
In 2002, at the age of 15, he became the youngest winner of the world under-21 title and also won the Asian junior and senior titles as well as Asian Games gold. He turned professional in 2003.
After his breakthrough year of 2005, Ding lost in the semi-finals of his China Open title defence but encouraged those who thought he was a future world number one by lifting his third ranking title with victory over O'Sullivan in the Northern Ireland trophy final.
A trip to Doha from his English base in December to retain his Asian Games title disrupted his preparations for the UK championship but he was back on top form at Wembley last week and followed the magical 147 with a 105 in the quarter-finals.
Ding offers snooker none of the flamboyance of some of the players of the past and is so laid back he has been known to doze off while his opponents are at the table.
There is no doubting his talent with the cue, however, as seven-times world champion Hendry said this week.
"The best compliment I can give him is that there are only two or three players in the world, who, when you're sitting there, you consistently think you're not going to get back to the table."