Oliver Kahn, a three-time world goalkeeper of the year, said Sunday he will likely retire when his contract with Bayern Munich ends in 2008.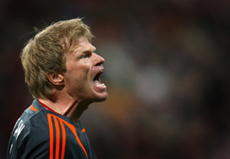 "I will be 39 then and it's time to take off the shorts and begin to develop yourself in a different direction," Kahn said.
Kahn was quoted in recent months as saying he would continue to play as long as he remained a top goalkeeper. He helped Bayern win the 2001 Champions League final _ saving three penalty kicks in a shootout against Valencia _ and was voted best player of the 2002 World Cup, where Germany was beaten 2-0 by Brazil in the final.
But in recent years Kahn's status has slipped. Arsenal's Jens Lehmann was the first-choice Germany goalkeeper for the World Cup this year, while a recent poll of Bundesliga goalkeepers said Kahn was now just the league's fifth best at that position.
"I can judge my performance exactly. According to the statistics, I am the best goalkeeper in the Champions League at the moment," Kahn said. "I haven't made a mistake all season in the Bundesliga that has led to a loss. I want to stay at this level _ everything else is of zero interest to me."
If he retires in 2008, Kahn said he won't immediately replace Uli Hoeness as Bayern Munich's business manager, a move that has been long planned.
"After my career ends, I won't do anything at all except regenerate. I'm not thinking about goodbye scenarios," Kahn said. "What's important now is to become German champions for the eighth time and I want to win the Champions League again."