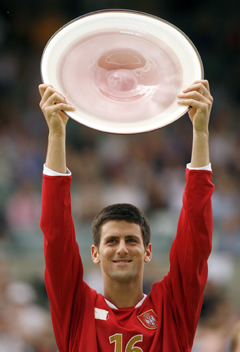 Serbia's Novak Djokovic celebrates his victory with the trophy after his match against Australia's Chris Guccione in the final of the Adelaide International tennis tournament January 7, 2007. [Reuters]


Top-seeded Novak Djokovic of Serbia beat Australian left-hander Chris Guccione 6-3, 6-7 (8) and 6-4 to win the Adelaide International tennis tournament on Sunday.

It was third ATP tour title for Djokovic, who ranked 16th in the world.

Djokovic had not dropped a set until Guccione won the tiebreaker after a disputed call by Djokovic who came out strongly in the third set, breaking serve twice to go up 4-1.

Guccione who upset second-seeded Richard Gasquet in Friday's quarterfinals, forced four break points on Djokovic in the first 12 minutes of the match, but failed to convert any of them.