While Yao Ming worries about missing All-star games because of his broken knee, his fans back in China are fretting about their 7-foot-5 hero's name, which has again cropped up in a case of celebrity name registration for commercial purposes.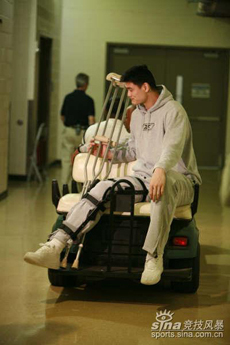 A Chinese lady called Jin last May registered the Chinese name of Yao Ming as a domain address in a mobile network service provided by China Internet Network Information Center (CNNIC).
The service allows applicants in the country to register unique domain addresses and link them to mobile network websites. Chinese phone users who want to access those websites only need to send the domain address in text messages to the service provider.
Domain address registration is potentially hugely profitable, considering the huge market of 455 million Chinese mobile phone users and the prospect of popular network surfing made possible by 3G technologies.
A lot of organizations and companies in the country, including Associated Press, have already registered their names for the service.
Jin, the lady who registered Yao's name, said she did not do it for profit but to protect Yao, Thursday's China Youth Daily said.
Jin said she is willing to "give up the registration if Yao gives her a hug and his signature", the newspaper said.
"I want to keep Yao's name from being misused just like everyone else. That's why I registered his name ahead of those who want to take advantage of it," Jin was quoted as saying.
Yao's name was earlier registered as a brand for sanitary pads, triggering complaints from the public and Yao's agents and fans.
But a lot of Chinese Internet users accused Jin of hyping herself, according to China Youth Daily.
Yao's agents have already registered "Yao", "Yaoming" and "Team Yao" in the mobile network service, according to a CNNIC official.
The CNNIC official said people who believe that their names have been "maliciously" registered by others for economic gain or by people who want to block them from enjoying their legal rights on the network, or that their reputations have been damaged, can ask CNNIC to cancel the registration.
People who register domain names will be able to retain the registration as long as there is no complaints and the registration is used "in goodwill and not for commercial benefit".