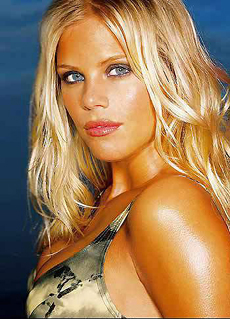 Formerly virtually unknown, swimsuit model/nanny Elin Nordegren's celebrity status went through the roof after news of her relationship with golfing superstar Tiger Woods was made public in 2002. The sexy Swede's hushed marriage to Woods made headlines in October 2004.[File Photo]


Sexy Photo of Elin Nordegren, wife of Tiger Woods
Tiger Woods celebrated his 31st birthday Saturday by sharing some of his biggest news of the year -- his wife is expecting their first child this summer.
"Obviously, we couldn't be happier and our families are thrilled," Woods said on his Web site. "I have always wanted to be a dad. I just wish my father could be around to share the experience."
Woods and Elin Nordegren of Sweden married in October 2004, and Woods has said that he wanted children sooner instead of later. He did not say when in the summer the baby is due, although it likely would be between the US Open and British Open.
The world's No. 1 player is skipping the season-opening Mercedes-Benz Championship next week on Maui.
"I'm going to stick close to home for the next few weeks," he said. Woods will start his '07 season in the Buick Invitational at the end of January, "which will allow Elin and I to spend more time with our families during this very special time in our lives."